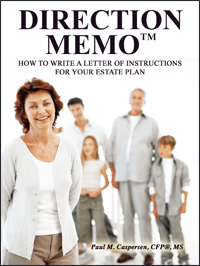 The important people in your life will benefit tremendously from a Direction Memo—a letter of instruction that goes beyond traditional estate planning documents, which are written to determine who gets what—not what needs to be done. Rather than adding excessive instructions to your will or trust, use a Direction Memo, a logical place for basic yet crucial information and a way to address important questions like these:
•How would my late husband want me to invest his life insurance proceeds? Should I pay off the mortgage or save for my own retirement?
•What would my mother have wanted me to do with her jewelry?
•Which Primary Financial Advisor can I trust now that my husband's gone?
•What happens to my spouse's retirement plan now that they're gone?
•Did Dad want to be cremated?
•Who is the best real estate agent to sell Mom's house now that she is moving to the nursing home?
Do your loved ones a favor. With Direction Memo, you can answer these important questions so that grieving family members won't have to guess.
Media Center
Press play to listen to audio excerpt...
Press play to watch the video...
About Paul M. Caspersen, CFP®, MS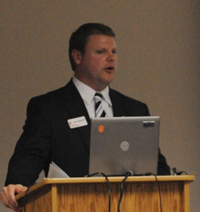 Paul Caspersen brings talent for complex financial thinking to estate planning. He is a pioneer in the field of drafting side Letters of Instruction within the comprehensive estate plan, and works diligently to ensure families have properly executed financial planning documents in addition to the traditional legal documents drafted by an attorney. His work has been adopted by hundreds of Professional Advisors.
Caspersen graduated from the University of Northern Iowa as an undergrad and the College for Financial Planning in Denver with a Master's degree in Financial Planning.
Paul can be reached at paulcaspersen@hotmail.com
8.25 x 11 paperback
Instant e-Book Download
Note: e-Books are for electronic enjoyment only. They may not be edited or printed.
Genre:
BUSINESS & ECONOMICS / Personal Finance / General
Publication:
Oct 14, 2011