Save $250 on our two best publishing packages during our Spring Sale!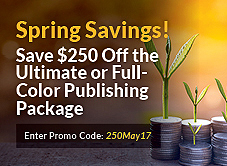 While spring officially sprung in March, at Outskirts Press we are still celebrating the season by offering $250 off our best-selling Ultimate and Full-Color publishing packages! Both of these publishing packages are designed to help you with every step of the publishing process; from customizable covers to interior formatting that will pull your reader in, the end result will be a professional book that you will be thrilled to promote. Whether you're publishing your first book with Outskirts Press or your tenth, this is the perfect opportunity to take advantage of great savings.
To spring into publishing and claim your savings, simply:
Add the Ultimate or Full-Color publishing package to your shopping cart.
Enter Promo Code:

250May17

Save $250 on full-service publishing!
Need a little help navigating your options and choosing the best ones for you? Talk with a Publishing Consultant to get exactly what you need – and get the most out of it! There are three convenient ways to connect:
Call us at 1-888-672-6657 (OP-BOOKS)
Live-chat with us via our website
Go online to schedule an appointment.
View Publishing Services
It's Always Q&A Time at Outskirts Press!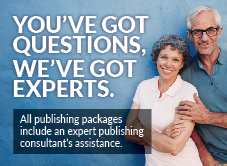 Success in self-publishing requires a powerful, carefully-crafted platform--and at Outskirts Press, we recognize the value in knowing all of your options before getting started. This is why, we make it easy to connect with a publishing consultant!
In 2016, we were rated as the #1 Publisher by Top Consumer Reviews, an award which boils down to two simple words: personal service. No matter what life throws your way, we are here to ensure that you receive the best possible return on your investment by providing top-notch personal service in the form of a Publishing Consultant.
What exactly is a Publishing Consultant? They're the ones who among other things can help you navigate:
Selecting the best publishing package for your book,
Determining the best options for your book,
Manuscript submission,
Designing both the cover and interior of your book,
Copyediting,
Creating ebooks and digital trailers,
Writing and distributing press releases,
Filing for LCCN and Library of Congress listings,
Registering for an official copyright, and
Submitting your book for reviews.
Other self-publishing companies might offer personal consultation as a part of their services, but Outskirts Press is one of the few that does so before full payment! Even before you pay the $35 down payment which will start you on your publishing journey, you can reach out to a Publishing Consultant via chat on our website or speak with one by phone at 1-888-672-6657. You can even schedule a meeting directly with a Publishing Consultant via the following link - Schedule a Consultation.
It's time! You can start getting answers to even the most pressing of questions by speaking with one of our expert staff today!
View Publishing Services
Marketing is in bloom with FREE shipping on book orders of 50 or more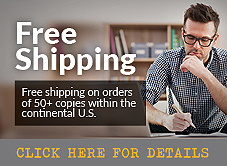 When the opportunity to sell your book sprouts up, will you be ready? Outskirts Press has cultivated a great way for you to sow savings in May: Stock up on author copies this month and receive FREE SHIPPING (within the Continental United States) from Outskirts Press on orders of 50 copies or more!
Better yet, order in bulk and you can save and additional 35-50% with our bulk discount and still receive FREE standard shipping. With a supply of author books always the ready, you'll be fully prepared to make the most of every marketing and selling opportunity.
In addition to having copies on hand for spontaneous, in-person book sales, your author copies will come in handy for a number of other purposes:
Book-signing events
Radio, TV and newspaper publicity
Book award submissions
Review submissions
Book giveaways to promote on social media
Gifts to family and friends
Ready to get marketing? Stock up on your author copies in May and get FREE SHIPPING within the Continental United States on orders of 50 or more. Log into your Publishing Center here to place your order today.
Order Books
Full-Service, Hassle-Free - Get Started with One-Click Publishing!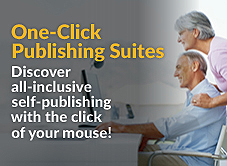 Have you hired a book editor yet? What about your book format? Did you pick a cover design? Have you thought about your marketing? There are many tasks both big and small that must be carried out to take your work from "manuscript" to "published book" ... and for many, it's a confusing process!
But what if you didn't have to sweat over any of it? With a One-Click Publishing Suite from Outskirts Press, a single click of the mouse instantly pulls together everything you need to polish and format your manuscript, send it to print, get the word out and start selling. Even better, One-Click Publishing is designed to tailor distinct services to authors in seven book genres: Non-Fiction, Fiction, Spiritual, Christian, Children's, Memoirs and Cookbooks.
While every package addresses the specific publishing and marketing needs of a specific genre, every One-Click self-publishing author can count on receiving dozens of priceless benefits:
Free author's copies
Professional copy editing
Interior formatting
Custom cover design
ISBN and barcode
International Ingram, Baker & Taylor, and Betram wholesale distribution, including Amazon, Barnes & Noble and 25,000 other retail locations
One-on-one author support
5 hours of Personal Marketing Assistance
Author maintains 100% rights and copyright, and enjoys industry-leading profit margins
And many more publishing and marketing services and resources vital to success in your genre!
Learn More
Download your free publishing guide and receive a free bonus e-book today!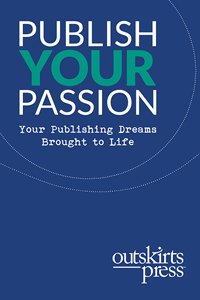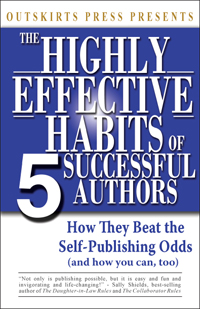 Get these 2 free e-books and free publishing information