Professional Copyediting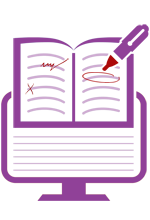 We will initially bill you a $285 non-refundable down payment to initiate your professional copyediting review. This amount will be applied toward your final editing cost and will cover the first 15,000 words of your manuscript. Your actual, final cost will depend upon the length of your manuscript over and above 15,000 words and will be billed at 1.9 cents per word. This final amount will be added to your shopping cart for secure payment before editing begins. 
Compare & Save with Outskirts Press
We've analyzed the competition so you don't have to. Here are prices from four of our largest competitors for their professional copyediting services. Multiply this difference by the word count of your manuscript and you could save HUNDREDS of dollars at Outskirts Press! Just another reason Outskirts Press is rated #1.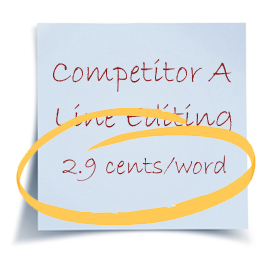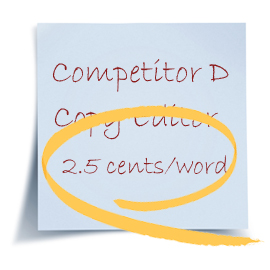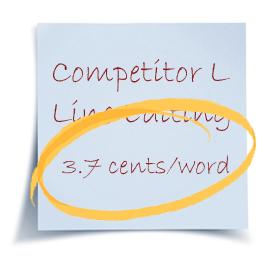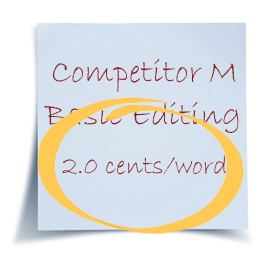 Planning to
publish with Outskirts Press

? Start your publishing process before ordering editing. Start publishing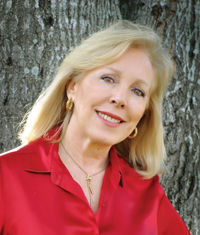 A word from an author about our editorial services
Please tell the person who did the editing that I'm very grateful. She did a superb job and now I really feel good about having a book free of mistakes. I was amazed at how many mistakes she found.

Maribel Grunloh
more testimonials >>
Service Details
If you want to publish a high-quality book, you simply MUST have your manuscript edited. Even if you plan on publishing your book traditionally by submitting it to a conventional publisher or to an agent, you really should have it edited before you submit it. And even if you plan to self-publish it, you really should have it edited. No one will take your book seriously if it is riddled with errors.

Outskirts Press offers high-quality copyediting services for manuscripts of all lengths and types, regardless of whether you plan on publishing your book with us or somewhere else.

Editing timeframes depend upon the length and complexity of the manuscript. Basic editing of a typical manuscript can take up...

continue reading >>