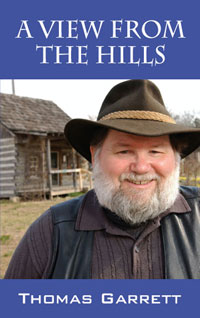 Ever have one of those lives?
Have you ever found yourself stuck behind land yachts?
Do telemarketers have your number?
Are you tired of people telling you everything you like is bad for you?
Does technology gang up on you?
Do you miss the days of soda fountains, cheap gasoline and when hamburgers didn't cost $6?
Do you ever wonder whatever really happened to Randolph Scott? (More importantly, do you even remember Randolph Scott?)
So does Sonny Garrett, and from the hills of the Ozarks he ponders these and other of life's questions in his weekly newspaper column. These are some of his observations on life, the universe and the benefits of a good cup of coffee.
"The boy never was right." - Mom and Dad
"Please buy this book. The kids need shoes, and the dog and cat need food." - Kim, author's wife
"I'm still dead." - Francisco Franco, late dictator of Spain
Here's a little sample text.

Who would have thought $1.22 per gallon gasoline would sound good? That's what the price was in Mountain Home 25 years ago in the midst of a gas war.
Ah, the good old days. That's when one fast-food place offered a burger, fries and a drink for $1.84.
You can't even get a gallon of gas for that now let alone a meal that could give you gas.
With the price of gas heading toward the stratosphere it makes you long for the time when gas was cheap. I remember pumping gasoline for 29 cents a gallon when I worked part-time at Joe Minnick's service station in DeKalb, Texas. And that was for pemium.
For that 29 cents, along with gasoline you got your windshield washed, your oil checked and free air for your tires while you sat in the comfort of your vehicle. Now, for the premium price of about $2.35 a gallon and more, you get out of your car, pump your own gas, wash your own windshield, check your own oil and air your own tires.
What's wrong with this picture?
About Thomas 'Sonny' Garrett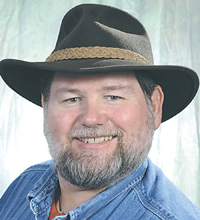 Thomas 'Sonny' Garrett lives in Mountain Home, Arkansas, in the heart of the Ozarks where he's a jack-of-all-trades at The Baxter Bulletin, most recently serving as ediotial page editor and senir writer. He started at The Bulletin in 1978, and since 1983 he's written a weekly column, Odds & Ends. He has received awards for news writing, feature stories, photography and column and editorial writing. Most recently, he won first- and second-place awards in the 2009 Arkansas Press Managing Editors contest for editorial and a first-place honor for column writing. He is a member of the National Society of Newspaper Columnists. He and his wife Kim are the parents of two children, Eli and Amelia.
Publication:
May 28, 2007