Are you ready to take your book marketing

efforts into the 21st Century?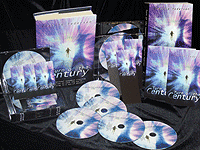 Be among the first authors anywhere to use online video marketing.
Introducing Outskirts Press
Book Videos
It's like a 1 minute movie trailer for your book. It's cool, it's hip, it's NOW!
Music, text, video - we handle the entire production for you

You take a look at the first version and make revisions
We modify the video once to your specs for the final version
We send you the 6mb video file via email
Now you have a 1 minute Book Video to use in any/all of your marketing efforts, however you want
But wait! There's more! We also upload your video to popular social networking websites, perfect for enhancing your search engine optimization on keyword searches for your name and book title.
Plus, successful viral marketing efforts begin at all the sites where we will distribute your video, including:
YouTube
Google Video
Yahoo Video
AOL Video
MySpace
Daily Motion
Revver
LiveVideo
Metacafe
and more
BONUS!
Your book video trailer also will be added to your Outskirts Press webpage automatically!
Visitors to your Outskirts Press webpage will be able to watch your book video online from the new Media Center section of your author webpage.
---
Media Center
Press play to watch the Book Preview for "Sell Your Book on Amazon"
---
See it on the actual author webpage by clicking here (opens in a new window).
Special Offer!
Normal price: $499
Special price: $599.00 - Save $-100.00 instantly
To order send an email to marketing@outskirtspress.com telling us you wish to order the Book Video trailer. Please include your name and the name of your book(s) you want made into Book Video. The entire process typically takes less than 2 weeks.