Author Marketing Calendar 2023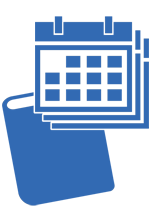 Successful book promotion requires an organized plan and tenacious, month-after-month marketing.

Let the 2023 Author Marketing Calendar from Outskirts Press draw your attention to some of the most important deadlines and most helpful marketing options & services in the industry.

Hundreds of Marketing Tips and Industry Deadlines to Supercharge Your Book Marketing
The 2023 Marketing Calendar from Outskirts Press offers hundreds of important book marketing tips, resources, and deadlines to help you make 2023 the best year possible in terms of marketing your book!



What are the dates and submission deadlines for book awards, book fairs and exclusive national magazine advertising opportunities like...
London Book Fair

The Writer's Digest Annual Book Awards

Reader Views Literary Book Awards
The 2023 Author Marketing Calendar answers these questions and many, many more in an organized, month-by-month manner. Marketing services, important deadlines, and promotional tips are interspersed throughout the calendar year to give you a convenient, deadline-driven marketing objective to complete week in and week out.
Sometimes the hardest part about marketing a book is knowing what to do, and when. Now you have important suggestions available at your fingertips to act upon every month, week, or day, as you see fit.
See what Outskirts Press authors are saying about their self-publishing experience
My representative Jamie was always extremely professional and helpful during the entire process of my book publication. She always responded very quickly to requests and was always helpful throughout the entire process. She is a great role model and a great asset to the Outskirts Press family. I will highly recommend Outskirts Press to my friends and associates and also look forward to doing more business in the future. I am extremely pleased with my book publication and consider this a major milestone in my life . Thank you all very much...
Lawrence N. Weston
author of Avoiding Self Imposed Adversities
From the beginning, and throughout the process of publishing my first book, I felt that I was in the hands of a pro. Dana always took the time to answer my questions in detail and swiftly, and if she didn't have 100% confidence, she researched the question and got back to me. I was very pleased with her and I am also thankful that I was paired with her as an Author Rep.
David Matityahu Ben Avraham
author of There's No Such Thing as Magic Blood
Bridget, as well as the entire Outskirts Press team working with me, are exceptional. They held my hand through the entire process in addition to providing me with welcomed support and encouragement. I am looking forward to our next project together. I have recommended Outskirts Press to several freelance authors in my area. Thank you for making a potentially hectic journey so enjoyable and so satisfying.
Paneque y Diaz
author of More Than What They Seemed
I was very happy with my author rep's responses to me. She did a superb job of answering my questions and helping me through the editing process. She was always available when I needed her. I'm delighted with the outcome--my book looks good and it's selling! Thank you.
Kathleen O'Brien
author of Reclaim Your Right To Grow Old
A great experience with Outskirts Press. I learned a lot in this process. I will do it all over again. Thank you so much.
Esther A. Ota
author of Children: My Heritage - A Testimony
The one-on-one with Lisa was great. Especially the phone call picking out styles, font, cover template etc. She even got a vote on the color. I so wanted to have my daughter's painting as the art work on the cover and she gave me a way to do that. Her guidance helped turn my dream into a reality and sometimes it is still hard to believe until I look at my book. Thank you.
Nancy L. Regas
author of The Art of Being a School Counselor
Outskirts Press has perfected the art of self-publishing. Their process is simple and seamless with everything happening in a timely manner, giving authors complete control over how their book will appear inside and out. And the people there are fantastic. They're friendly, knowledgeable, courteous, patient and quick to reply to emails. What more can an author ask?
Needless to say, I've found a home here at Outskirts Press.
Jim Black
author of Life with Bingo, Miracle on the Gridiron, Football Hero, and Ezra
Outskirts Press changed my life for the better. They turned my adoption memoir into a book that is not only beautiful to look at, it is pleasurable to read, easy to purchase online, and in less than a month already has had a profound impact on many people. A truly amazing company with a heart. Deepest gratitude!
Paul Kimball
author of We Are All Human Beings
The Outskirts Press team was helpful, attentive, prompt and detail oriented during the publishing process. It really felt like a team effort, and everyone worked hard to create an awesome final product that was my fully published book!
Eric B.
author of Realm of the Invader
Having just published my eighth book with Outskirts Press, I can attest to it being a great experience, and I look forward to publishing number nine. Thanks for a great job.
James A. Hunter
author of Soft And Gentle 8
I would like to thank everyone at Outskirts Press for helping me getting my book (Storms of Jaycard) into print. I never thought in my wildest dreams that I would write a book and have it published. Once again, I would like to thank everyone at Outskirts Press for making my book dream come true.
Joseph J. Myer
author of Storms of Jaycard
Previous
Next