Amazon Kindle eBook Box Set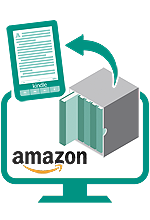 Want to instantly convert book-buying customers into repeat customers? With the Amazon Kindle Box Set you can bundle all your existing Amazon Kindle e-books into a single collection – making it easy for your readers to buy more than one book at a time. 

Scroll to the Product Details section for more details.
The art of selling often boils down to one primary rule: Make it easy for shoppers to buy! The Amazon Kindle Box Set from Outskirts Press does just that. It removes all the barriers to multiple book purchases by bundling two or more of your existing Kindle e-books into a convenient box set your fans can purchase in a single click.
The Box Set works similar to how your other Kindle E-book Editions do: Outskirts Press takes care of uploading your set to the Kindle Bookstore and setting up your new product page for selling your collection in one place. We even create unique cover art just for this bundle!
Whether you have an Amazon Kindle book series or simply want all your e-books packaged for your loyal readers, the Amazon Kindle Box Set from Outskirts Press can help you increase your sales by bundling all of them for easy, one-stop buying.

Bundle Your Kindle e-books Today!