Amazon-branded featured book-of-the-week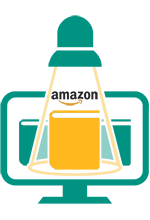 Get your book into the in-box (over 37,000) of a wide audience of literary enthusiasts with our Amazon Featured Book of the Week option. Scroll down to for more information.
Wouldn't it be great if your book's cover, along with an easy way to order your book directly from Amazon, could be delivered directly to the email in-box of thousands of interested readers and other writers?
That is exactly what you get with our Amazon Featured-Book-of-the-Week option:
*Your book is featured exclusively in a blog posting on our Self Publishing News blog

as the featured Amazon Book-of-the-Week

(see an example below)
* Over 37,000 readers and writers who subscribe will receive your Amazon-branded Featured Book of the Week email directly into their in-box, along with a convenient way to order your book directly from Amazon.
* Your blog post is broadcast to our social community on Facebook and Twitter, resulting in even more exposure for your Amazon Featured Book.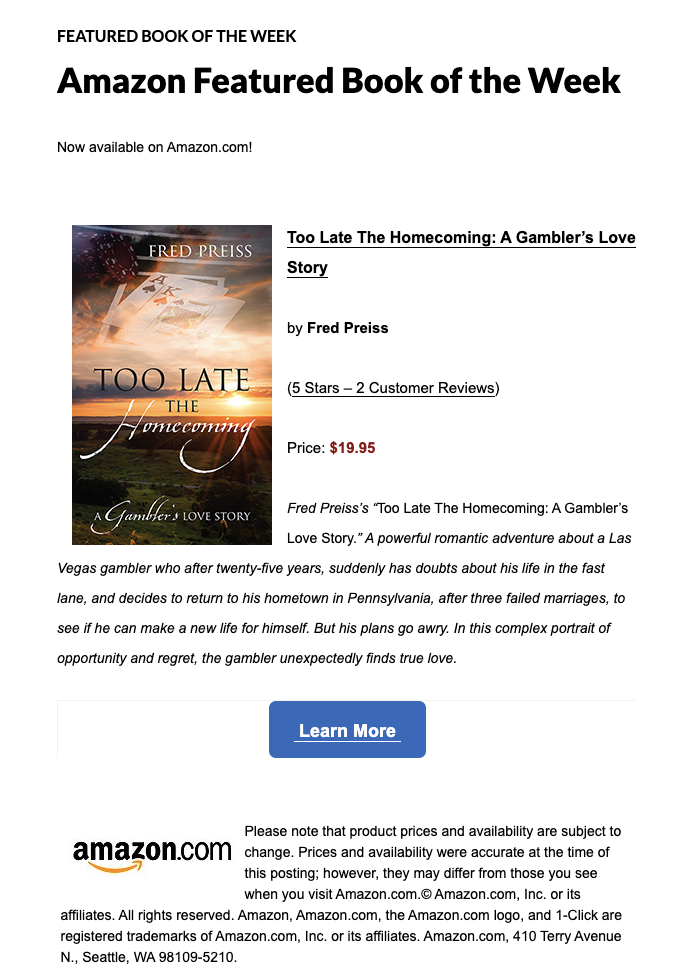 Both the email and blog post feature your book cover image, plus a button linking to your book for sale on Amazon, just like you see in the example above. This makes it extremely easy for readers to purchase your book and write reviews.
Yes, Amazon offers the ability to send emails like this manually, and you should certainly do that for your own targeted list of friends and family, too. But with this option, you get thousands of email recipients, plus exposure on our three most popular social media channels (our blog, our Facebook page, and our Twitter account). You will receive a free tip sheet upon purchase full of helpful tips on how best to utilize your Amazon Featured Book of the Week purchase.

Frequently Asked Questions

Q: When will my book be featured?

A: Books are featured based on when the option was purchased and how many "Featured Spots" are available for each month. This is a very popular option and authors love having their book featured on our Self Publishing News blog (http://selfpublishingnews.com) a few months after publication. This will enable you to get reviews for your book. You will get a greater return on investment with this option when your book has several good reviews. Reviews sell books and people rarely buy books will no reviews.

Q: Can Outskirts Press post a review for me on Amazon? How do I post a review? I have a Readers Favorite review and a Blue Ink review of my book.

A: You can add positive reviews of your book to your Amazon detail page through your Author Central account at authorcentral.amazon.com or you can have Outskirts Press optimize your Amazon listing for you as part of our popular Amazon Launch Bundle. The reviews you post yourself through Author Central won't go into the "Review" section, they'll go somewhere better -- into the Description portion, which is higher up on your sales page and therefore more visible to browsers.

However, other people who have read your book can post reviews for it into the Review section of Amazon, and here's how:
(1) Write out the review first and be ready to copy and paste it
(2) Login to Amazon (or create an account)
(3) Go to the book detail page on Amazon for the book you have reviewed. Scroll down to the yellow button labeled "Submit a Review" and click on it.
(4) Follow the prompts and copy and paste your review.

Q: Will my book be featured on Amazon?

A: Your book will be featured on the Self-Publishing News Blog, our Facebook Page, and emailed directly to approximately 40,000 readers and writers. Each Feature email and posting contains direct links to Amazon so that buyers can easily purchase your book.

Q: What is the distribution of this option?

A: Wide distribution of your featured book post will be pushed to all our blog subscribers and all of our social media channels.
Reserve your spot as soon as possible. Spots will fill up fast.
Reviews of your book greatly enhance this option! Make sure to have at least one review on Amazon.