Large Print Edition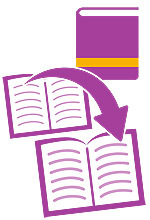 The number of Americans over the age of 65 is expected to almost double between 2018 and 2060. To learn how to leverage this growing, untapped reading population with a Large Print Edition of your book.

Scroll down for more information.
Reach Aging & Visually Impaired Readers with a Large Print Edition of Your Book
As the baby boomer population ages, it has brought both challenges and opportunities to the literary market (and every market). As a published author, this represents an extraordinary opportunity to market your book to a vast number of people with a wide range of interests who, for the most part, find it challenging or almost impossible to read "normal" sized print. Many of this group have not jumped on the ebook or audiobook bandwagon and prefer the feel and experience of holding an actual book in their hands. This group is hungry for content they can hold and the market has not kept up with their growing needs.
Enter Large Print Editions, a growing subset of paperback and hardback publications. Large Print Editions allow authors to market their published books to a new and untapped audience of readers – all without having to go to the trouble and expense of writing and publishing an entirely new book!
Our Large Print Editions meet the American National Association for Visually Handicapped's (NAVH) Best Practices & Standards. From paper color and font type, size, and spacing to justification, margins and layout we adhere to NAVH's best practices to ensure the widest possible market for your Large Print Edition. This means your new Large Print Edition will be exactly what an impaired reading population needs to access your story or knowledge.
We will make recommendations on format size and type to help you walk the tricky line between size and weight in order to maintain NAVH's standards. But we do recommend a hardback version of the Large Print Edition as libraries (one of the largest markets for these editions) prefer their durability in lending.
Frequently Asked Questions
Is a Large Print Edition larger than my Primary Edition?

The font size on the interior is bigger (at least 16-point and usually 18-point), and as a result, there are more pages to your book. The size of your book format will be either 6x9 or 6.14x9.21. See an example of how the interior of a Large Print Edition differs from a standard book here.


Will the retail price for my Large Print Edition be the same as my Primary Edition?

No, typically with the higher page count, due to the larger font size, comes a higher retail price. If you would prefer to deduct that difference from your royalty, you may notify your Consultant and Author Rep and we will do what we can. But in most cases, we will set your retail price to closely meet your preferred royalty.


I had my cover created elsewhere. Do I have to create it again?

Your Large Print Edition will require a new cover for a variety of reasons. If you provide us with your original cover print files, we can make the necessary changes on our end.


I had my interior formatted elsewhere. Do I have to format it again?



The whole purpose of a Large Print Edition is that the interior is reformatted with larger fonts and a variety of other specificities (see above). This requires an entirely new interior format. If you provide us with your original interior print files, we can make the necessary changes on our end.




See what Outskirts Press authors are saying about their self-publishing experience
My representative Jamie was always extremely professional and helpful during the entire process of my book publication. She always responded very quickly to requests and was always helpful throughout the entire process. She is a great role model and a great asset to the Outskirts Press family. I will highly recommend Outskirts Press to my friends and associates and also look forward to doing more business in the future. I am extremely pleased with my book publication and consider this a major milestone in my life . Thank you all very much...
Lawrence N. Weston
author of Avoiding Self Imposed Adversities
From the beginning, and throughout the process of publishing my first book, I felt that I was in the hands of a pro. Dana always took the time to answer my questions in detail and swiftly, and if she didn't have 100% confidence, she researched the question and got back to me. I was very pleased with her and I am also thankful that I was paired with her as an Author Rep.
David Matityahu Ben Avraham
author of There's No Such Thing as Magic Blood
Bridget, as well as the entire Outskirts Press team working with me, are exceptional. They held my hand through the entire process in addition to providing me with welcomed support and encouragement. I am looking forward to our next project together. I have recommended Outskirts Press to several freelance authors in my area. Thank you for making a potentially hectic journey so enjoyable and so satisfying.
Paneque y Diaz
author of More Than What They Seemed
I was very happy with my author rep's responses to me. She did a superb job of answering my questions and helping me through the editing process. She was always available when I needed her. I'm delighted with the outcome--my book looks good and it's selling! Thank you.
Kathleen O'Brien
author of Reclaim Your Right To Grow Old
A great experience with Outskirts Press. I learned a lot in this process. I will do it all over again. Thank you so much.
Esther A. Ota
author of Children: My Heritage - A Testimony
The one-on-one with Lisa was great. Especially the phone call picking out styles, font, cover template etc. She even got a vote on the color. I so wanted to have my daughter's painting as the art work on the cover and she gave me a way to do that. Her guidance helped turn my dream into a reality and sometimes it is still hard to believe until I look at my book. Thank you.
Nancy L. Regas
author of The Art of Being a School Counselor
Outskirts Press has perfected the art of self-publishing. Their process is simple and seamless with everything happening in a timely manner, giving authors complete control over how their book will appear inside and out. And the people there are fantastic. They're friendly, knowledgeable, courteous, patient and quick to reply to emails. What more can an author ask?
Needless to say, I've found a home here at Outskirts Press.
Jim Black
author of Life with Bingo, Miracle on the Gridiron, Football Hero, and Ezra
Outskirts Press changed my life for the better. They turned my adoption memoir into a book that is not only beautiful to look at, it is pleasurable to read, easy to purchase online, and in less than a month already has had a profound impact on many people. A truly amazing company with a heart. Deepest gratitude!
Paul Kimball
author of We Are All Human Beings
The Outskirts Press team was helpful, attentive, prompt and detail oriented during the publishing process. It really felt like a team effort, and everyone worked hard to create an awesome final product that was my fully published book!
Eric B.
author of Realm of the Invader
Having just published my eighth book with Outskirts Press, I can attest to it being a great experience, and I look forward to publishing number nine. Thanks for a great job.
James A. Hunter
author of Soft And Gentle 8
I would like to thank everyone at Outskirts Press for helping me getting my book (Storms of Jaycard) into print. I never thought in my wildest dreams that I would write a book and have it published. Once again, I would like to thank everyone at Outskirts Press for making my book dream come true.
Joseph J. Myer
author of Storms of Jaycard
Previous
Next