Large Print Edition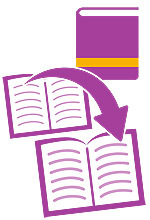 The number of Americans over the age of 65 is expected to almost double between 2018 and 2060. To learn how to leverage this growing, untapped reading population with a Large Print Edition of your book, scroll down to Product Details.
As the baby boomer population ages, it has brought both challenges and opportunities to the literary market (and every market). As a published author, this represents an extraordinary opportunity to market your book to a vast number of people with a wide range of interests who, for the most part, find it challenging or almost impossible to read "normal" sized print. Many of this group have not jumped on the ebook or audiobook bandwagon and prefer the feel and experience of holding an actual book in their hands. This group is hungry for content they can hold and the market has not kept up with their growing needs.
Enter Large Print Editions, a growing subset of paperback and hardback publications. Large Print Editions allow authors to market their published books to a new and untapped audience of readers – all without having to go to the trouble and expense of writing and publishing an entirely new book!
Our Large Print Editions meet the American National Association for Visually Handicapped's (NAVH) Best Practices & Standards. From paper color and font type, size, and spacing to justification, margins and layout we adhere to NAVH's best practices to ensure the widest possible market for your Large Print Edition. This means your new Large Print Edition will be exactly what an impaired reading population needs to access your story or knowledge.
We will make recommendations on format size and type to help you walk the tricky line between size and weight in order to maintain NAVH's standards. But we do recommend a hardback version of the Large Print Edition as libraries (one of the largest markets for these editions) prefer their durability in lending.
Frequently Asked Questions
1. Is a Large Print Edition larger than my Primary Edition?

The font size on the interior is bigger (at least 16-point and usually 18-point), and as a result, there are more pages to your book. The size of your book format will be either 6x9 or 6.14x9.21. See an example of how the interior of a Large Print Edition differs from a standard book here.


2. Will the retail price for my Large Print Edition be the same as my Primary Edition?

No, typically with the higher page count, due to the larger font size, comes a higher retail price. If you would prefer to deduct that difference from your royalty, you may notify your Consultant and Author Rep and we will do what we can. But in most cases, we will set your retail price to closely meet your preferred royalty.


3. I had my cover created elsewhere. Do I have to create it again?

Your Large Print Edition will require a new cover for a variety of reasons. If you provide us with your original cover print files, we can make the necessary changes on our end.


4. I had my interior formatted elsewhere. Do I have to format it again?

The whole purpose of a Large Print Edition is that the interior is reformatted with larger fonts and a variety of other specificities (see above). This requires an entirely new interior format. If you provide us with your original interior print files, we can make the necessary changes on our end.