Global Book Tour (3 book events, one discounted price)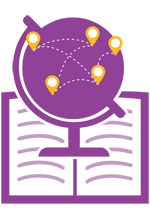 The easiest, most convenient way to get your book industry-leading exposure at the three major international book events: London, Beijing, and Frankfurt. Scroll down to the Product Details section for more information.
Your book is "going places!"



Networking is a powerful marketing tool - as a matter of fact, it's one of the most powerful tools, especially when it comes to international book marketing. An author who is skilled at communicating their ideas to others can very well write their own ticket. The challenge is that far too many authors don't know how to "network" their way into more sales.
The Outskirts Press Global Book Tour is a good way to effortlessly network with others not only within the author's home city/state/country, but in countries around the world. Imagine having a personal assistant who can sell a potential buyer on your book. That's "hands off" international book marketing at its finest.
Fasten your seatbelts -- the Outskirts Press Global Book Tour option takes your book around the world.
The best part is -- you don't have to leave your living room!
 

LONDON BOOK FAIR

Our first (and quite possibly, most exciting) stop is London, England, home to the annual London Book Fair...

Because this event is recognized as one of the most important spring publishing fairs, you have many capitalizing opportunities for exposing your book to key industry contacts like acquisitions agents, editors, and translation rights agents.

 

BEIJING INTERNATIONAL BOOK FAIR

Next Stop... Beijing, China...

No other country has experienced the increase that China has on the world marketplace, and the readership in China represents an enormous opportunity (and gap that needs to be filled) for translations and publishers seeking to feed the frenzy. There is surging consumer demand for all types of books.

 

FRANKFURT BOOK FAIR

Our final destination -- Frankfurt, Germany, home to the Frankfurt International Book Fair.

Each year, nearly 10,000 publishing professional and industry insiders converge on this event, which hosts over 50% more international publishers than Book Expo.
Are the tours effective?
For the right author, the tours are very effective. There's an opportunity to have your book put into the hands of book publishing industry professionals who can serve as a stepping stone to enhancing your writing career. The following authors are a testimonial to the effectiveness of the Global Book Tour:
A Self-Help book quintupled (yes, 5x) their average book sales following the events.
A Religious book more than doubled sales.
A History book sold 140% more books following the event.
Can it happen to you? Yes! These are real authors who self-published their book just like you!
Order now to reserve your book's front-cover-out spot at all four of these international events, beginning conveniently with the next event on the calendar. It couldn't be any easier or more convenient to expose your book to literally hundreds of thousands of international book buyers, readers, and industry professionals.