Personalized Children's Book (boy version)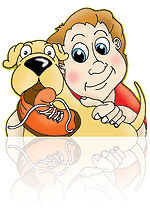 Become a children's book author in under 30 days with a pre-written, pre-illustrated story. Best of all, the story can be personalized to feature the names of children you know and you even have the option of publishing it and selling it online from Amazon and Barnes & Noble. Makes a great gift!

Want your main character to be a girl instead?  Click here.

Scroll down for more information.