Free Publishing Guide: Publish Your Passion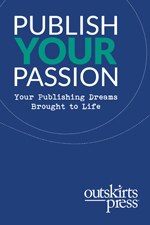 We want to help you achieve your publishing dreams! 

If you'd like to review our publishing services in book format, simply click the "Add to cart" button and check out of your shopping cart.  A free digital download (PDF) publishing guide will be sent to you instantly via email. No obligation and no risk.  
Different presentation formats work better for different people -- which is why we recommend that every author make their books available in several format styles (paperback, hardback, eBook, audiobook, and PDF digital download).  And that's why we are offering you a free digital download PDF which summarizes our publishing services in a different format than our website.  

Just click the "Add to cart" button and checkout to receive a digital download edition of our publishing guide, Publish Your Passion.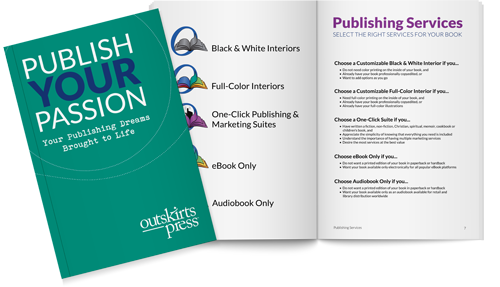 If you would prefer to receive our free publishing guide in paperback format, simply email info@outskirtspress.com with your name and mailing address and request a copy be mailed to you. 

The best part about receiving the guide in paperback format is that it can serve as an example of our high-quality book printing.  You can request to see a version of the guide with white or creme (recycled) paper, with a glossy or matte cover, and in black and white or full-color.

Or, better yet, view the publishing guide in our popular flipbook format.


Publish Your Passion includes...
Details and comparisons of our full-service One-Click Publishing & Marketing Suites

Details of our custom, a la carte black and white publishing services

Details of our gorgeous full-color publishing services

Step-by-step instructions for starting your publishing journey

The costs and benefits of each publishing service we offer
Learn how we can help make your book publishing dreams a reality faster, easier, and more affordably than anywhere else by downloading Publish Your Passion today. 
But that's not all! 
Add Publish Your Passion to your cart today and you will also receive a FREE BONUS E-BOOK titled Self-Publishing Questions Asked & Answered, written by Outskirts Press president, Brent Sampson.