xAuthor Platform Set-up Through Social Media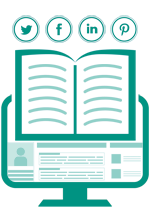 Taking advantage of readily available social media outlets is one of the most cost-effective ways of targeting your audience.


5 hours with a
Book Marketing Specialist


can really make all the difference details
A word from our authors about the Social Media Set-Up Option...
Every building needs a foundation. Likewise, every author needs a platform, which is like the building's foundation. Your platform gives you a firm, solid foundation to speak from, as well as gives your advertising message continuity, throughout your marketing campaign. I am thankful for my author platform.

Jim Maryott
I signed up for Author Platform Set-up Through Social Media because email is about the extent of my online social experience. Outskirts sent me an impressive list of my new marketing outlets. At that point I saw a great deal of potential but still didn't know how to make it work, so I signed up for five hours of Book Marketing Specialist. I am looking forward to touting my raw material on sites across the web.

John Camp
Service Details
With the exploding popularity of Facebook, Twitter, LinkedIn, Pinterest and other social media sites, it's easier than ever to connect with people all around the world – if you know how to do it. But, if you're not sure how to get started or are unsure about how to make connections with your target audience, Outskirts Press can help!
Many, if not most, of the people who would want to buy your book are active on social media – and social media costs nothing! Why not take advantage of the power of the Internet – the power to reach people all over the world from the comfort of your home – to establish a compelling and welcoming social media environment where your readers will find you?
Here's how it works:
Once you order the Author Platform Set-up Through Social Media, you're well on your way to reaching thousands of avid readers. Before you know it, you'll have high-profile accounts set up for you and established on Facebook, Twitter, LinkedIn, and Pinterest. Not only that – but we'll connect you with relevant users on each platform with a minimum of effort on your part. Your target audience will be defined and you can start connecting right away.
The Author Platform Set-up Through Social Media is right for you, if:
You're confused about social media. How do you post updates and pictures or other relevant and compelling information on social media? Does the method vary between social media platforms? Where do these messages go, and who sees them? If just getting past the basics of social media fills you with anxiety, we can do all the legwork for you.
You're not sure how to distinguish yourself as an author online. The updates you post as an author are bound to differ from the ones you post just for your friends and family. Your audience – and your reasons for communicating with them – are distinctly different. Your social media guru can help you establish an author presence online that helps you achieve specific marketing goals.
You want to build and maintain an ongoing relationship with your audience. Social media is the ideal way to connect with a target audience on an immediate and consistent basis. Did you just get a glowing book review? Are you working on a sequel? Is your new book ready for release? Want to get the word out about a sale or other special offers? Social media is the place to do that in a timely manner.
Time is not on your side. With your Social Media Author Platform, a few clicks can keep you connected with your audience.
You've spent months, maybe even years, crafting your book. Now's the time to ensure that it reaches a broader audience. With your Author Platform Set-up from Outskirts Press, you can take advantage of the many communication tools built into social media.