Social Media Set-Up and Strategy ToolKit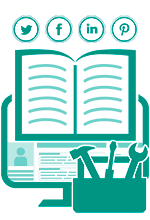 Social Media is a thriving venue for promoting your book and driving book sales. It is essential that your book (and you as an author) have a presence which is professional, and separate from, your personal social media accounts. We will set-up your author profile/account on all the major social media platforms to take advantage of this cost-effective way of targeting the appropriate audience for your book. We will then further develop or enhance your book's social media accounts while providing you with the knowledge you need to keep your accounts active and thriving.

Scroll down to the product details for more information.
With the exploding popularity of Facebook, Twitter, LinkedIn, Pinterest and other social media platforms, it's easier than ever to connect with people all around the world – if you know how to do it. But, if you're not sure how to get started or are unsure about how to make connections with your target readers, Outskirts Press can help!
Many, if not most, of the people who would want to buy your book are active on at least one social media platform and, better still, promoting yourself as an author on social media usually costs nothing! Why not take advantage of the power of the Internet – the power to reach readers from around the world – to establish a compelling and welcoming social media environment where your readers will find you?
Here's how it works:
Once you order this service, your Social Media Strategist will contact you via email so you may choose the 3 social media platforms you want us to set-up for you from among these five choices:

1. Facebook
2. Twitter
3. LinkedIn
4. Instagram
5. Pinterest

Once you send your selections to your Strategist we will get busy creating your professional profiles on each of the social media platforms you have chosen, which also includes all the applicable banners, book, and author graphics to raise your online presence to the next level.

In the meantime, you will receive a bonus Tip Sheet with instructions on launching your very own YouTube platform. You will also receive access to the exclusive Outskirts Press Social Media Video Course, containing the following short, informative videos on how to successfully market your book on Social Media:

+ How to Market Your Book on Facebook
+ Creating a Podcast for Your Book
+ Using LinkedIn to Promote Your Book
+ Navigating the Social Media Jungle


When your Strategist has completed setting-up the four platforms of your choosing, we will help you get started with an initial posting on each of your platforms and a posting aggregator to make scheduling multiple postings all at once a breeze! Your Strategist will help you understand how to continue your postings on your own and you will receive the 120-Day Social Media Suggestion Sheet to ensure four months of promotional power-packed punch! We'll even create and set-up your very first "ad" on Facebook for you.
How Can I Know if This Service is Right for Me?
If you're confused about social media. - How do you post updates and pictures or other relevant and compelling information on social media? Does the method vary between social media platforms? Where do these messages go, and who sees them? If just getting past the basics of social media fills you with anxiety, we can do all the legwork for you.
If you're not sure how to distinguish yourself as an author online. – The updates you post as an author are bound to differ from the ones you post just for your friends and family. Your audience – and your reasons for communicating with them – are distinctly different. Your social media specialist can help you establish an author presence online that helps you achieve specific marketing goals.
If you want to build and maintain an ongoing relationship with your audience. – Social media is the ideal way to connect with a target audience on an immediate and consistent basis. Did you just get a glowing book review? Are you working on a sequel? Is your new book ready for release? Want to get the word out about a sale or other special offers? Social media is the place to do that in a timely manner.
If time is not on your side. – With the knowledge and author platform you gain from Social Media Set-up & Strategy, a few clicks a day can keep you connected with your audience, and keep your readership engaged and growing. After all, you've spent months or maybe even years, crafting your book. Now is the time to take the time to ensure that it reaches an appropriate audience.
If your mailing address is in the United States. – Due to security restrictions on these social media platforms, you must have a U.S. mailing address and/or place of residence. These sites do not allow us to set-up accounts on behalf of authors living outside of the United States.
Are you ready to start promoting your book on Social Media? Scroll up and click the button. We will handle the rest.