Social Media Set-Up and Strategy ToolKit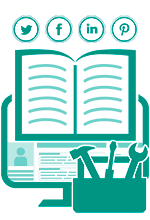 Social Media is a thriving venue for promoting your book and driving book sales. It is essential that your book (and you as an author) have a presence which is professional, and separate from, your personal social media accounts. We will set-up your author profile/account on all the major social media platforms to take advantage of this cost-effective way of targeting the appropriate audience for your book. We will then further develop or enhance your book's social media accounts while providing you with the knowledge you need to keep your accounts active and thriving.

Scroll down for more information.
With the exploding popularity of Facebook, Twitter, LinkedIn, Pinterest and other social media platforms, it's easier than ever to connect with people all around the world – if you know how to do it. But, if you're not sure how to get started or are unsure about how to make connections with your target readers, Outskirts Press can help!
Many, if not most, of the people who would want to buy your book are active on at least one social media platform and, better still, promoting yourself as an author on social media usually costs nothing! Why not take advantage of the power of the Internet – the power to reach readers from around the world – to establish a compelling and welcoming social media environment where your readers will find you?
Here's how it works:
Once you order this service, your Social Media Strategist will contact you via email so you may choose the 3 social media platforms you want us to set-up for you from among these five choices:

1. Facebook
2. Twitter
3. LinkedIn
4. Instagram
5. Pinterest

Once you send your selections to your Strategist we will get busy creating your professional profiles on each of the social media platforms you have chosen, which also includes all the applicable banners, book, and author graphics to raise your online presence to the next level.

In the meantime, you will receive a bonus Tip Sheet with instructions on launching your very own YouTube platform. You will also receive access to the exclusive Outskirts Press Social Media Video Course, containing the following short, informative videos on how to successfully market your book on Social Media:

+ How to Market Your Book on Facebook
+ Creating a Podcast for Your Book
+ Using LinkedIn to Promote Your Book
+ Navigating the Social Media Jungle


When your Strategist has completed setting-up the four platforms of your choosing, we will help you get started with an initial posting on each of your platforms and a posting aggregator to make scheduling multiple postings all at once a breeze! Your Strategist will help you understand how to continue your postings on your own and you will receive the 120-Day Social Media Suggestion Sheet to ensure four months of promotional power-packed punch! We'll even create and set-up your very first "ad" on Facebook for you.
How Can I Know if This Service is Right for Me?
If you're confused about social media. - How do you post updates and pictures or other relevant and compelling information on social media? Does the method vary between social media platforms? Where do these messages go, and who sees them? If just getting past the basics of social media fills you with anxiety, we can do all the legwork for you.
If you're not sure how to distinguish yourself as an author online. – The updates you post as an author are bound to differ from the ones you post just for your friends and family. Your audience – and your reasons for communicating with them – are distinctly different. Your social media specialist can help you establish an author presence online that helps you achieve specific marketing goals.
If you want to build and maintain an ongoing relationship with your audience. – Social media is the ideal way to connect with a target audience on an immediate and consistent basis. Did you just get a glowing book review? Are you working on a sequel? Is your new book ready for release? Want to get the word out about a sale or other special offers? Social media is the place to do that in a timely manner.
If time is not on your side. – With the knowledge and author platform you gain from Social Media Set-up & Strategy, a few clicks a day can keep you connected with your audience, and keep your readership engaged and growing. After all, you've spent months or maybe even years, crafting your book. Now is the time to take the time to ensure that it reaches an appropriate audience.
If your mailing address is in the United States. – Due to security restrictions on these social media platforms, you must have a U.S. mailing address and/or place of residence. These sites do not allow us to set-up accounts on behalf of authors living outside of the United States.
Are you ready to start promoting your book on Social Media? Scroll up and click the button. We will handle the rest.
See what Outskirts Press authors are saying about their self-publishing experience
I felt that I was in the hands of a pro...
From the beginning, and throughout the process of publishing my first book, I felt that I was in the hands of a pro. Dana always took the time to answer my questions in detail and swiftly, and if she didn't have 100% confidence, she researched the question and got back to me. I was very pleased with her and I am also thankful that I was paired with her as an Author Rep.
— David Matityahu Ben Avraham, author of There's No Such Thing as Magic Blood
The entire Outskirts Press team working with me, are exceptional...
Bridget, as well as the entire Outskirts Press team working with me, are exceptional. They held my hand through the entire process in addition to providing me with welcomed support and encouragement. I am looking forward to our next project together. I have recommended Outskirts Press to several freelance authors in my area. Thank you for making a potentially hectic journey so enjoyable and so satisfying.
— Paneque y Diaz, author of More Than What They Seemed
I will highly recommend Outskirts Press to my friends and associates…
My representative Jamie was always extremely professional and helpful during the entire process of my book publication. She always responded very quickly to requests and was always helpful throughout the entire process. She is a great role model and a great asset to the Outskirts Press family. I will highly recommend Outskirts Press to my friends and associates and also look forward to doing more business in the future. I am extremely pleased with my book publication and consider this a major milestone in my life . Thank you all very much...
— Lawrence N. Weston, author of Avoiding Self Imposed Adversities
I'm delighted with the outcome...
I was very happy with my author rep's responses to me. She did a superb job of answering my questions and helping me through the editing process. She was always available when I needed her. I'm delighted with the outcome--my book looks good and it's selling! Thank you.
— Kathleen O'Brien, author of Reclaim Your Right To Grow Old
I have been very pleased with the way OP helped...
I have been very pleased with the way OP helped and handled the publishing of both my books. Tina was my first great agent and Dana continued that care and concern. I would definitely use this company again and recommend them to all who are now asking "How can I get published? Please keep up the good work and the integrity you have with your company. May God bless you all for blessing your clients the way you do!
— Charlene Hendricks, author of Times of Refreshing
A great experience with Outskirts Press...
A great experience with Outskirts Press. I learned a lot in this process. I will do it all over again. Thank you so much.
— Esther A. Ota, author of Children: My Heritage - A Testimony
Her guidance helped turn my dream into a reality…
The one-on-one with Lisa was great. Especially the phone call picking out styles, font, cover template etc. She even got a vote on the color. I so wanted to have my daughter's painting as the art work on the cover and she gave me a way to do that. Her guidance helped turn my dream into a reality and sometimes it is still hard to believe until I look at my book. Thank you.
— Nancy L. Regas, author of The Art of Being a School Counselor
Thanks, Outskirts Press...
What a blockbuster learning experience I had being a part of self publishing with Outskirts Press! I felt empowered to the next challenge by both Allison and Dana. Their professional guidance and clear instructions when I needed help was crucial to feeling I could tackle the next step. I look forward to the experience with the marketing team. Thanks, Outskirts Press.
— Barbara Drinkwine, author of Lima Beans for Breakfast
Outskirts Press changed my life for the better...
Outskirts Press changed my life for the better. They turned my adoption memoir into a book that is not only beautiful to look at, it is pleasurable to read, easy to purchase online, and in less than a month already has had a profound impact on many people. A truly amazing company with a heart. Deepest gratitude!
— Paul Kimball, author of We Are All Human Beings
Everyone worked hard to create an awesome final product…
The Outskirts Press team was helpful, attentive, prompt and detail oriented during the publishing process. It really felt like a team effort, and everyone worked hard to create an awesome final product that was my fully published book!
— Eric B, author of Realm of the Invader
Thanks for a great job...
Having just published my eighth book with Outskirts Press, I can attest to it being a great experience, and I look forward to publishing number nine. Thanks for a great job.
— James A. Hunter, author of Soft And Gentle 8
I would like to thank everyone at Outskirts Press...
I would like to thank everyone at Outskirts Press for helping me getting my book (Storms of Jaycard) into print. I never thought in my wildest dreams that I would write a book and have it published. Once again, I would like to thank everyone at Outskirts Press for making my book dream come true.
— Joseph J. Myer, author of Storms of Jaycard
Previous
Next