Writing Consultation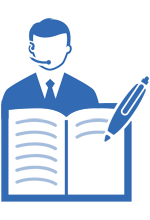 Stuck in a rut? The Writing Consultation service from Outskirts Press provides you with the tools you need to restart or fine-tune your writing and get your book back on track. This service gives you time with a professional, skilled writer to address any writing issues you are experiencing, along with valuable advice and a plan of action for moving forward. Scroll down to Product Details for more information.


Planning to
publish with Outskirts Press

? A personal publishing consultant can help you choose the right ghostwriter. Start publishing
Service Details
Writing a book is a big undertaking, one that can stymie even the most prolific and organized of authors. Often, the difference between finishing and not finishing a book lies not in the enormity of the task at hand, but in the smallest details. With the Writing Consultation, you will have a brainstorming session with a professional, successful writing consultant. Your consultant will personally work with you to overcome a number of obstacles.
Use your consultation time to:
Troubleshoot plot, characters, technique or execution of your ideas
Work through writer's block
Take inventory of usable book materials
Organize book ideas into a useable outline
Get ideas on how to proceed with a book
Gather ideas on how to finish
Negotiate tricky passages
Ask for general writing advice
Get help moving to the next step in writing
The Writing Consultation service from Outskirts Press includes one, 1-hour session with a trained writing professional, who will walk you through whatever difficulty you may be encountering. Your consultant will provide advice and help you find solutions to your writing concerns. Upon completion of your 1-hour session, your writing consultant will provide a follow-up summary of your meeting, along with constructive information you can use to get back on track.
This could be just the breakthrough move you need to get your book completed and you on the road to being a published author!