Professional, search-optimized book title suggestions (3)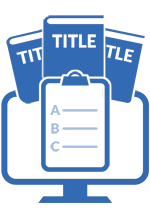 How effective is your title? Did you know that a professional, optimized book title can, in some cases, mean literally thousands of extra dollars in book sales? Authors publishing with Outskirts Press can save 10% on this option by selecting their package first and ordering this option from within their Publishing Center.
You have probably had the title of your book in your mind for a long time... perhaps even before you started writing the book. Then why on earth would you want 3 suggestions for alternate titles/sub-titles for your book?
An ineffective book title can result in ineffective sales.
People judge books by the cover, and that includes the book title. Effective book titles can sometimes mean the difference between lackluster sales and thousands upon thousands of dollars in book sales.
Just look at one of our bestselling and highly profitable authors, Gang Chen, and the title of one of his books:
LEED AP Exam Guide: Study Materials, Sample Questions, Mock Exam, Building LEED Certification (LEED-NC) and Going Green
That's quite a mouthful, isn't it? But you can't argue with success. Mr. Chen earned over $100,000 in royalties from Outskirts Press in under 180 days.
So what does his title have that yours might lack? It is rich with keywords and key phrases, or in other words, search terms that potential customers might type into Google or Amazon when looking for information on his topic.
Here is what we will do for you with your selection of this option:
Consider the originality and/or uniqueness of your title
Search databases for other previously published books with titles similar to yours
Review your title suggestion and synopsis to compile a list of keywords and/or phrases for your book
Once this research has been done, you will receive 3 professional, optimized suggestions for what to title your book. Each title will contain both a title and a sub-title (did you know having an effective, optimized sub-title is one of the most important elements to publishing a successful book nowadays?).
It's NOT always important or necessary for the optimized sub-title to be a part of the cover-design, but it is helpful for the optimized sub-title to be submitted into distribution.
Once you receive these 3 suggestions, what you do with them is up to you. You can ignore them entirely and keep your original title. You can take one of the suggestions exactly. Or you can arrive at a new title that takes suggestions from the 3 titles we sent you.
And remember, even if you have a fiction or poetry book, and cringe at the idea of a sub-title, keep in mind that sub-titles do not have to be a part of the cover design. Sub-titles can be reserved solely for the online databases and copyright of your book to assist with search engine optimization. You can make that clear to your cover designer during the cover design process or review process.
Want more proof? Here are some examples of bestselling Outskirts Press books. Notice their titles and subtitles:
The Atheist's Introduction to the New Testament: How the Bible Undermines the Basic Teachings of Christianity
LEED GA Exam Guide: A Must-Have for the LEED Green Associate Exam: Comprehensive Study Materials, Sample Questions, Mock Exam, Green Building LEED Certification, and Sustainability (LEED v3.0)
The Daughter-in-Law Rules: 101 Surefire Ways to Make Friends with Your Mother-In-Law!
5 Necessary Skills to Keep Your Career on Track: Negotiate a Job Offer, Interview Questions, Career Changes, Job Searches, Cover Letters, Resume, Being Proactive, Dealing With Bad Managers, Networking

Will these title suggestions guarantee $100,000 in six months like Gang Chen's book? Of course not. But it can't hurt....