Full-Color Publishing Packages
Everything you need to self-publish your book
If you are looking for a flexible publishing service that include everything you need to successfully self-publish your book with a full-color interior, choose from one of our three publishing packages below.


We give you the support and assistance of a dedicated group of US-based publishing professionals to take care of all the details of preparing your book for publication. And you'll always maintain 100% of your publishing rights and receive 100% of your net profits when you publish with Outskirts Press.
Full-Color Publishing Packages



Ultimate
Publishing
$1999

Basic
Publishing
$1499

Economy
Publishing
$999
Paperback Edition Included
✔️
✔️
✔️
eBook Edition Included
✔️
Hardback Edition Available
✔️
Free Author Copies
10
6
1
Formats Available
80
9 book sizes
2 print qualities
glossy or matte cover
8
4 book sizes
2 print qualities
glossy cover
1
8.5x8.5 book size 
standard print quality
glossy cover
Interior Image Insertions
20
15
5
Professionally Designed Book Cover
✔️
✔️
✔️
Professionally Designed Interior Book Layout
✔️
✔️
✔️
Digital Online Proof
✔️
✔️
✔️
1 Set of Revisions
✔️
✔️
✔️
One-on-One Author Support
✔️
✔️
limited
ISBN Assignment
✔️
✔️
✔️
Book Order Volume Discounts
✔️
✔️
✔️
Book Marketing COACH
✔️
✔️
✔️
Book Sales Sheet
✔️
✔️
✔️
Press Release (standard)
✔️
✔️
✔️
Bowker Books-in-Print Listing
✔️
✔️
✔️
Book Launch Kit
✔️
✔️
✔️
30-Minute Marketing Consultation with Marketing Plan Development
✔️
Social Media Set-up Guide
✔️
12-Month Book Marketing Calendar
✔️
Book Marketing RoadMap
✔️
 
Add To Cart
Add To Cart
Add To Cart
Worldwide Distribution & Order Fulfillment
Paperback Distribution Through Over 60,000 Booksellers & Retailers
Digital eBook Distribution Through Over 450 Retail, Subscription & Library Channels

Outskirts Press Bookstore Availability

Bookstore sales page that you can update & personalize 24/7 from your Author Center

Print-on-Demand Order Fulfillment

Your book is never out of stock

You don't have to store inventory

Each book is printed when it's ordered and shipped directly to the retailer or buyer. 
Optional Book Enhancement Services 



Everything you need in one place... 

Truly, self-publishing simplified.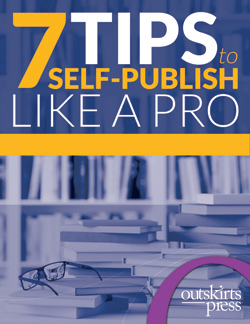 Receive your exclusive FREE publishing guide instantly
Gina Simone reviews Outskirts Press
I chose Outskirts Press as my publishing company because of the incredible reputation they hold in the industry for self-publishers. Their website is user-friendly and easy to maneuver. Their customer service agents are always ready to answer any questions. They take the stress out of the process of self-publishing by streamlining the entire operation. My first-time author experience was made SO easy by working with Outskirts Press. They explained the process every step of the way, their editing and graphics teams were a joy to work with. The vision I held in my head of this book coming to life has manifested in my hands, all due to the professionalism and experience of Outskirts Press. Thank you!