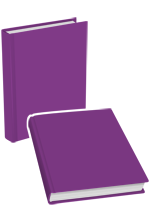 Please be sure you are
logged-in
and then select one of your Titles to add this option to your cart.
For an additional fee, authors can elect to publish a hardback edition of their book instead of a paperback edition. The hardbacks feature either a full-color laminated hardback cover (perfect for textbooks and children's books) or a full-color wraparound dust jacket over cloth caseboards. Please check the full list of sizes and details by viewing each individual package within your Publishing Center under the Publishing Packages menu tab for casebound editions available with a full-color Glossy laminated cover or a full-color Matte laminated cover.
There is also the option of publishing both a paperback AND a hardback edition as two different formats, which incurs an additional fee of $349.
If you have additional questions, contact your Publishing Consultant.
---
Hardback books for the Ultimate and Basic packages must be at least 18 pages long. The Full-Color package minimum page count is 18 to 24 pages; Standard color interior paper is 18 and Color interior paper is 24 pages. Hardbacks are available in two different formats: A cloth-stitched hardback with a full-color wrap around dust jacket, or a laminated casebound hardback. The casebound hardback offers a full-color glossy laminated cover or a full-color matte laminated cover. The cloth-stitched hardback has gold foil stamped title/author (space permitting) information along the spine, although it is usually concealed by the wrap around dust jacket, which is designed according to your cover selections.
Hardback Recommendations
The benefit of Outskirts Press is that you can publish any kind of book you want, but here are some general recommendations, for what they're worth:
The most common trade hardback size is 6 x 9, so if you don't have a specific preference, or aren't sure what to get, 6 x 9 is the best choice.
Black/white fiction hardbacks are either 6 x 9, 5.5 x 8.5 or 6.14 x 9.21. Rarely larger. Do not get a laminated casebound hardback for a fiction book. Fiction hardbacks should only be published under the dust jacket option.
Poetry hardbacks tend to be 5.5 x 8.5 or 6 x 9. It's best to avoid the laminated casebound choice and instead choose the dust jacket option for poetry.
Non-fiction hardbacks tend to be 6 x 9, 6.14 x 9.21 or 7 x 10. Rarely smaller. Whether or not your non-fiction hardback is the laminated casebound or the dust jacket option is a personal choice.
Children's hardback books run the gamut. The most popular size for children's hardback books is 7 x 10, followed closely by 5.5 x 8.5. Children's hardback books should not publish with the dust jacket option, and should instead choose the laminated casebound selection.
No matter what type of book it is, rarely is the 8.5 x 11 or 8.25 x 11 a good choice. It's better to pick a trim size that will look like a "book" when it's done, and not like something that could be produced at your run-of-the-mill copy shop.
Review the package detail pages (from the Publishing Packages menu tab) to check package and format availability that meets your preferences.
---
Please be sure you are
logged-in
and then select one of your Titles to add this option to your cart.