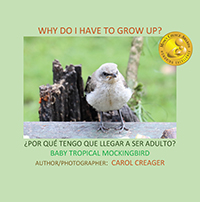 Why Do I Have to Grow Up?
¿POR QUÉ TENGO QUE LLEGAR A SER ADULTO? BABY TROPICAL MOCKINGBIRD
Paperback
Retail Price: $13.95
Buy 1-9 copies: $12.56 each save 10%
Buy 10 or more: $6.98 each save 50%
You save: 10%
Book Details: Scroll below for more information about this book, provided directly by the author.