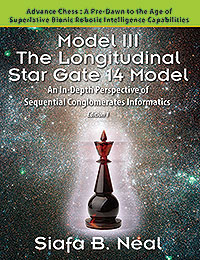 Model III: The Longitudinal Star Gate 14 Model: An In-Depth Perspective of Sequential Conglomerates Informatics. Edition 1
Advance Chess: A Pre-Dawn to the Age of Superlative Bionic Robotic Intelligence Capabilities.
Paperback
Retail Price: $83.95
Buy 1-9 copies: $75.56 each save 10%
Buy 10 or more: $50.37 each save 40%
You save: 10%
Book Details: Scroll below for more information about this book, provided directly by the author.