Make an Impression with a FREE Custom Cover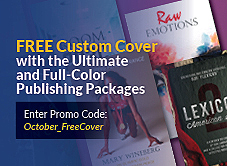 Offer available through October 31st.
Ever heard the old adage, "Don't judge a book by its cover?" The fact is people do, so first impressions matter when it comes to your book. Make those snap judgements work to your advantage by giving your book a Custom Cover Design that makes an instant impact!
For a limited time, Outskirts Press is offering a FREE Custom Cover Design (valued at $399) with the purchase of the Ultimate or Full-Color Publishing package! Just enter the promo code FreeCover-October at checkout. During the pre-production process, your Publishing Consultant will provide you with a second promo code which will allow you to add the custom cover to complete your purchase.
Need a little help navigating your publishing options and choosing the best one for you? Talk with a Publishing Consultant to get exactly what you need - and get the most out of it! There are three convenient ways to connect:
1. Call us at 1-888-672-6657 (OP-BOOKS)
2. Live-chat with us via our website
3. Go online to schedule an appointment.
View Publishing Services
Get Your FREE Custom Publishing Profile!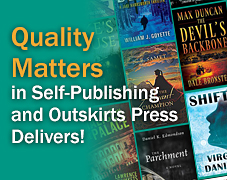 Self-publishing success is built upon a powerful, carefully-crafted platform. At Outskirts Press, we recognize the value in knowing all of your options before getting started, which is why we offer a Custom Publishing Profile! With a simple $35 down payment on a publishing package of your choice, you qualify for this complimentary personal consultation with a Publishing Consultant, a manuscript evaluation, free e-books and the opportunity to work with a team of publishing professionals.
The Custom Publishing Profile includes recommendations for your book based upon your goals to help increase your chances at success. This profile, which is yours to keep, will provide you with a starting point for determining your book's retail price, author copy cost, royalty, marketing goals, and more!
Such a profile is invaluable for authors looking to break into the competitive publishing market, and one rich with exactly the sort of detail to make your book stand out from the pack. At Outskirts Press, we're dedicated to making sure you receive the best possible range of services and we're the only full-service publisher where you can start publishing with just a $35 down payment. Call 1-888-672-6657 to talk with a Publishing Consultant or use the live chat feature on our website to learn more about our Custom Publishing Profile and other self-publishing options.
Get Started
Limited Time 10% Off Author Platform Set-Up through Social Media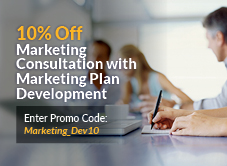 With over 2.8 billion active social media users and the number growing, social media is one of the most cost-effective ways to target your audience! Don't let the stress of figuring out how to create profiles, connect with your audience, and maintain relationships discourage you. Outskirts Press can help! Author Platform Set-Up through Outskirts Press will help you reach thousands of readers by creating high-profile accounts on Facebook, Twitter, LinkedIn, Pinterest, and Wordpress. This service is perfect for those who are confused by social, those who want to distinguish themselves as published author, those who want to build and maintain relationships with their audience, and those who think they don't have time for social media.
For a limited time, Outskirts Press is offering 10% off Author Platform Set-Up Through Social Media. Simply use promo code SocialMedia10 at checkout to save.
Just remember, this is a limited-time offer, so don't delay!
Learn More
Stock Up for Holiday Book Sales with FREE Shipping in October!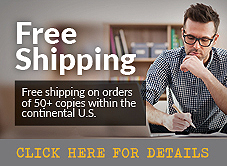 In the throes of seasonal baking, pumpkin spice lattes and long, leisurely drives to take in the fall foliage, it's easy to forget that bigger things lie just around the bend: the holidays! To help you get ready for this prime selling time, Outskirts Press is offering FREE SHIPPING on orders of 50 or more copies of your book within the continental U.S. during the month of October—just in time for that first big holiday sales push!
With a supply of author books on hand, you can make the most of every marketing and selling opportunity:
Book-signing events
Radio, TV and newspaper publicity
Book award submissions
Review submissions
Book giveaways to promote on social media
Gifts to family and friends
Plus, you can take advantage of high-volume discounts and receive up to an additional 50% off your order - and still get free shipping!
Here's how to get free shipping:
1. Log in to your Publishing Center, select "order books" and place an order for 50 or more copies of your book(s) in a single format before October 31.
2. Select normal ground shipping with a delivery address within the continental United States and proceed with checkout. (No promotion code is necessary. You will see the free shipping offer reflected in your total once you place your order.)
Order Books
Download your free publishing guide and receive a free bonus e-book today!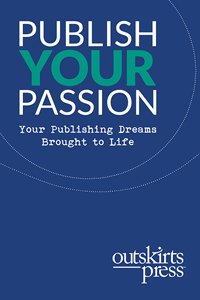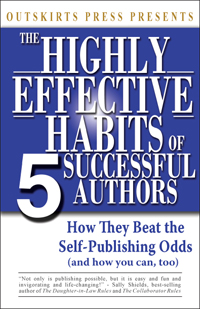 Get these 2 free e-books and free publishing information