Helen's Treasure
Odyssey of a Ladies' Man
by Andrew J. Rodriguez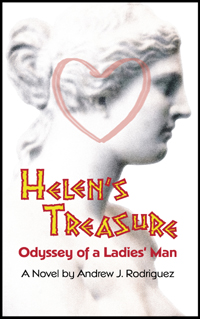 Helen's Treasure
Odyssey of a Ladies' Man
by Andrew J. Rodriguez
Published Apr 05, 2009
312 Pages
Genre: FICTION / Romance / Fantasy
Book Details
A Royal Treasure . . . A Ghostly Bargain . . . A Charming Alliance
Archaeologist Ashton Bryke unearths a priceless cache of ancient golden jewelry. The discovery could secure him fame and fortune for life-but he is willing to bury it again forever . . .



. . . to spend one night with the treasure's owner, the most beautiful woman who ever lived: Helen, Princess of Troy.



Helen keeps her side of the bargain and materializes in all her luscious glory in Ashton's hotel room. But the wily princess has also made a bargain with Zeus, and she has plans for the wealthy, handsome archaeologist. For Ashton is an inveterate womanizer, and she has come to life to reform Ashton's licentious lifestyle in order to expiate her three-thousand-year-old sin of adultery.



Why would Ashton Bryke resist the advances of the world's most beautiful woman? What powerful inner force could compel this ladies' man to contain his lust despite overwhelming temptation? Only another bargain-one with an otherworldly payoff for both Ashton and Helen. But if they succeed as a team, what kind of reward will they expect next? The answers lie hidden in:



HELEN'S TREASURE: ODYSSEY OF A LADIES' MAN



This light-hearted story of desire and deliverance originates in Turkey and crosses the sparkling Aegean to Greece and back again-filled with romance, music, art, sailing, dining, and philosophical inquiries along the way.
Book Excerpt
Andrew J. Rodriguez is a student of the human condition who views the writer's craft as a means to enrapture the mind and touch the heart. Helen's Treasure: Odyssey of a Ladies' Man is his fourth book, following The Incredible Adventures of Enrique Diaz, a finalist for both the "Book of the Year Award" sponsored by ForeWord Magazine and the Best Books Award sponsored by USA Book News. His second book, Adios, Havana: A Memoir, won the prestigious Colorado Independent Publishers Association EVVY Award in 2005, as well as the Allbooks Reviews Editor's Choice Award. His first novel, the highly acclaimed The Teleportation of an American Teenager, is a time travel adventure that moves from Mongolia to medieval Venice along the fabled Silk Road. The author and his wife live in Colorado and Florida.
Also by Andrew J. Rodriguez