In the Eyes of a Sister
by Van Voorhis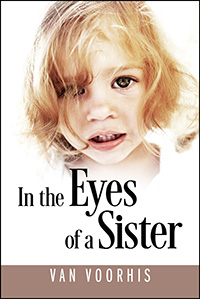 In the Eyes of a Sister
by Van Voorhis
Published Feb 27, 2021
200 Pages
Genre: FICTION / Mystery & Detective / General
Book Details
In the summer of 1965, outside a small town in Western Pennsylvania, two boys make a discovery that is far too strange to believe...
When J.J. Wilson and his best friend, Tommy Patton, sneak into an abandoned Nike missile site, they stumble upon a secret that has only been rumored of by a few local conspiracy mongers. And it will change their lives—and the lives of many others—forever.

This is a story of a boy with conviction and courage and his valiant effort to help someone he doesn't even know. With the aid of his steadfast friend and the support of his mom and dad and others who grow to trust him, he will attempt to save a young girl and her people, as well as solve an old murder. But his actions will put his family and friends in danger if he cannot convince the proper authorities of what is really going on under the supposedly closed military site. Can J.J. and those who believe him take on the stonewalling U.S. Army, avoid the evil few within the site, and keep an innocent girl safe?