The Blacksmith's Cottage
A Pastoral War
by Caroline Mason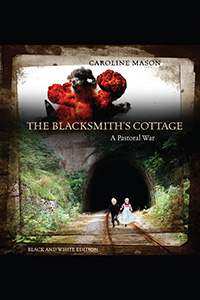 The Blacksmith's Cottage
A Pastoral War
by Caroline Mason
Published Nov 11, 2009
150 Pages
Genre: HISTORY / Military / General
Book Details
In a time of great danger and uncertainty, a village's greatest hope may lie with its

children.


The year is 1940, and in Great Britain, life is anything but normal. The cities are being bombarded with aerial assaults, and word has it that the German army is planning an invasion. For safety's sake, many children are being sent to small, remote villages in the countryside. For Stephen and Mary and their cousins, Thomas and Susannah, the Blacksmith's Cottage in Yorkshire soon becomes their home away from home.



Each day the villagers and goodhearted Nursie do what they can to help the displaced children adjust, to try to make their lives as carefree as possible. But when conversations become peppered with talk of spies and concern about attacks, the children cannot help but let their imaginations, as well as their feet, roam free. As strange figures appear on the moors, and stone walls and mine shafts become more than mere objects of curiosity, what the children begin to suspect may not be fanciful at all.