My Favorite Things
by Shauna Sohl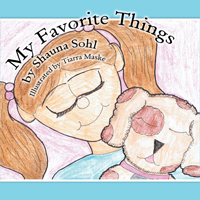 My Favorite Things
by Shauna Sohl
Published Feb 29, 2012
46 Pages
Genre: JUVENILE FICTION / Family / General (see also headings under Social Themes)
Book Details
My Favorite Things


What are a girl's favorite things? A boy's favorite things? My favorite things? Your favorite things?

In this charming book, focused on happy imagery and simple rhymes, early childhood educator Shauna Sohl encourages children to explore what they like while learning about new words and sounds.

The colorful illustrations will engage readers of all ages, and will inspire children and adults alike to draw their own pictures of their favorite things.

A wonderful resource for sharing and learning, My Favorite Things is an ideal book for home or classroom.