REMODELING and NEW CONSTRUCTION with NO REGRETS
How to Avoid the Most Common and Frustrating Mistakes Homeowners Make
by Gary R. and Pam A. Palmer with Trish Stukbauer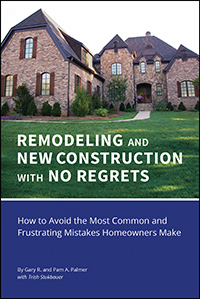 REMODELING and NEW CONSTRUCTION with NO REGRETS
How to Avoid the Most Common and Frustrating Mistakes Homeowners Make
by Gary R. and Pam A. Palmer with Trish Stukbauer
Published Jan 31, 2020
91 Pages
Genre: HOUSE & HOME / Remodeling & Renovation
Book Details
Regrets. We've all had a few.
While regrets are all too common in our day-to-day lives, you definitely don't want to have any regrets in your next remodeling project or your new custom-built home. Why? Because those regrets are far too costly both in terms of financial impact and the price of living with a poor choice for years to come.

As qualified professional contractors with more than three decades of experience, we've heard from countless satisfied customers who have done things the correct way. Sadly, we've also had to correct the things that someone else didn't do, did incorrectly, or shouldn't have done. Since we can't help everyone in person — as much as we would like to — we wrote this book. In these pages you'll find the biggest mistakes we've seen homeowners make over the years — from hiring the wrong company to not planning for the home they actually need, to fundamental financial miscalculations that can sabotage a project. It is our hope that you will learn from these experiences and use them to systematically eliminate the chance of regrets cropping up in your project.