Later Gator, In a While Crocodile
by Mike Fortunato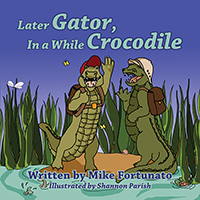 Later Gator, In a While Crocodile
by Mike Fortunato
Published Feb 27, 2013
40 Pages
Genre: JUVENILE FICTION / Animals / Alligators & Crocodiles
Book Details
We can be different and still be friends!

2013 READERS FAVORITE HONORABLE MENTION AWARD


In this 3-story collection, see how Crocodile and Gator meet and become friends in the swamp. They swim around and realize how similar they really are even though they are very different. They go on great adventures, meet new friends and see the silly things that can happen close to home. See how much fun they have in the swamp as their friendship grows! Later Gator, In a while Crocodile!