A Widow's Walk:
From Pain to Peace
by Lynee A. Davis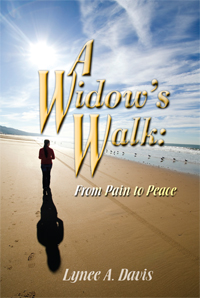 A Widow's Walk:
From Pain to Peace
by Lynee A. Davis
Published Apr 08, 2011
130 Pages
Genre: BIOGRAPHY & AUTOBIOGRAPHY / Adventurers & Explorers
Book Details
An Emotional Roller Coaster A sudden death creates a search for life and identity.
Lynee A. Davis has carved a new life and identity out of the ashes of her husband's untimely death. She is a Personal Trainer and Fitness Instructor on a mission to educate others on the importance of physical fitness. Currently, she is pursuing a California Teaching Credential in Physical Education to teach in the public school system. Lynee is shockingly honest as she chronicles her experience(s) as a widow living on the edge of reality. As she questions the meaning of life and her faith in God; she discovers that it's faith that gives her purpose and the strength to continue on the journey. Fasten your seat belts and ride an emotional roller coaster where nothing is off limits. Hear the thoughts, feel the pain, and rejoice over the victories of A Widow's Walk.