Too Late The Homecoming
A Gambler's Love Story
by Fred Preiss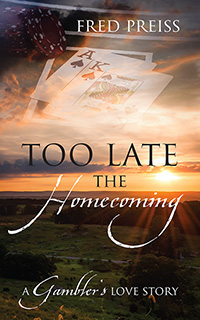 Too Late The Homecoming
A Gambler's Love Story
by Fred Preiss
Published Jun 28, 2019
366 Pages
Genre: FICTION / Romance / General
Book Details
It's Never Easy to Face the Past…
A powerful romantic adventure about a Las Vegas gambler who after twenty-five years, suddenly has doubts about his life in the fast lane, and decides to return to his hometown in Pennsylvania to see if he can make a new life for himself.

But his plans go awry when the last thing he ever expected after three failed marriages was to finally find true love.

Heather is beautiful, exhilarating and smart, and-she's been dating his younger rich cousin who hates Tony for stealing her from him. Joey enlists help from Heather's mother to stop Tony at all cost. Nostalgic and richly characterized.

Too Late the Homecoming is a complex portrait of opportunity, regret, and the long reach of the past with an unpredictable ending.