Immortal Beloved
A Novella of Beethoven
by Jeanne Blanchet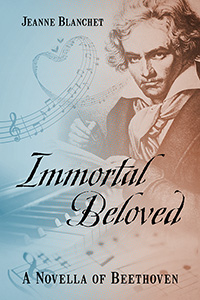 Immortal Beloved
A Novella of Beethoven
by Jeanne Blanchet
Published Jun 16, 2023
174 Pages
Genre: FICTION / Historical / General
Book Details
Unique…Interactive…Electrifying!
On July 7, 1812 in Teplitz, Austria, Ludwig van Beethoven penciled a ten-page letter to his "Immortal Beloved." The missive, which was never mailed, was not discovered until after the famous composer's death. Even today the intended recipient remains unknown and is the topic of heated debate among scholars and music historians. Just who was the mysterious addressee?

In this unique, interactive novella, you, the reader, can take a magic carpet ride back through space and time to ask the master for yourself as he narrates the story of his fascinating, albeit harried, life. This entertaining, fast-paced story by award-winning author Jeanne Blanchet features a surprising ending and will enable readers to develop a deeper appreciation for the passion and struggles of Beethoven—one of the world's most renowned geniuses.