I Believe in Miracles
Choice, Chance or Miracle
by Cesare Andrea Frustaci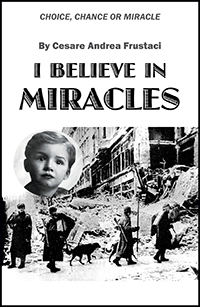 I Believe in Miracles
Choice, Chance or Miracle
by Cesare Andrea Frustaci
Published Oct 31, 2018
331 Pages
Genre: BIOGRAPHY & AUTOBIOGRAPHY / Personal Memoirs
Book Details
COINCIDENCE OR MIRACLE – WHAT DO YOU THINK?
In any person's life there is so much that is remembered, even more that is forgotten. Where a single event or decision, of one's own making or a consequence of the times one is born into, plot the course of a life. Yet through it all, there is meaning. Life is worth living, declaring so is perhaps the most important thing one can do.

In this autobiography by Cesare Frustaci from small boy abandoned in war- torn Europe to proud grandfather thankful for the life he now lives on the gulf-coast of Florida, "Cesi" recalls his Italian-Catholic father and Jewish-Hungarian mother. His flight in the face of Nazism at age two with mother from his place of birth in Naples, Italy, to her place of birth in Budapest, Hungary.

His mother's looming internment in the German death camps. His survival of the bloodiest war of the last century followed by a rural farm family adopting him. Not to see his father for eighteen years and to be reunited years later thanks solely to the personal intervention by Monsignor Angelo Roncalli, better known as the "Good Pope," John XXIII.

This son of a musician who composed the music for a song played by the Glenn Miller's U.S. Army Air Force Band, and a ballerina who trained, performed and taught at the Hungarian Opera House reveals the child who grew to manhood on the streets of an alien city under a German, then Russian occupation. Held captive by them until 20 he returns to his father in Naples only to discover greater challenges there (including his father's Greta Garbo connection); an engineer married to a Hungarian beauty and ultimate immigration to America with wife and two daughters.

Fate did not swallow up Cesare Frustaci. Destiny, rather than crush him, submits to his rule.