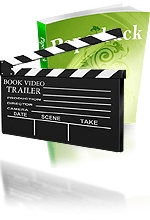 Book video trailer & distribution
Books, camera, action! Today's successful book authors are making smart use of viral video marketing to cut through the clutter and get discovered. Are you ready for your close-up? Scroll down to "Product Details" for more information.
Authors published with Outskirts Press can save 40% on this option by ordering from within your Publishing Center. Login now and save.
---
And the sales boost goes to …
YOU! But only if you can capture the hearts and minds of readers instantly through the magic of video.
A Book Video Trailer is a slick, creative way to showcase your work and market your book effectively to a wide audience. Besides making you look uber-cool, your Hollywood-ready Book Video Trailer comes with a number of other fringe benefits:
Entertaining format that will hook potential readers and keep them engaged.

Straight-to-the-point presentation of all the vital details of your book.

High visibility across 3 popular social networking platforms: YouTube, Facebook and Twitter!
Here's a sneak preview of how your professionally produced trailer could look:
How do you get started?

Usually, making a little movie is complicated affair. You have to decide on your theme, shoot footage, edit the shots with sound effects, transitions and more. Why trouble yourself with the minutia when an Outskirts Press auteur is ready and able to direct your masterpiece and creating a custom Book Video Trailer just for you, before you can say "Take 1." Instead, as producer, you'll merely call the shots:
Click the "Add to Cart" button below to get production rolling.

Review the emailed rough cut of your Book Video Trailer.

Provide feedback on your first draft.

Wait for the final cut of your video to be delivered to you via email and watch as it is premiered to the public online.
Want to see your work under the "bright lights" of YouTube?
Get started now by clicking the "Add to Cart" button below.
Author testimonial
"When I first viewed the video, I didn't know what to expect. Then, WOW! You and your staff did a spectacular job with both the video and audio! I wrote and produced TV commercials for years and even won a CLIO, and I'm very impressed with your production! The quality of your work is impressive. Thank you for doing such a wonderful job for me! "

- David A. Brookover, author of Ghostworld, The Fossil, Demon Key, The Ancient Breed,and Mortal Eclipse
---