Hard Lessons
Lessons Learned the Hardest Last the Longest
Paperback
Retail Price: $8.95
Buy 1-9 copies: $8.06 each save 10%
Buy 10 or more: $6.71 each save 25%
Cost: $8.06
Qty: You save: 10%
Book Details: Scroll below for more information about this book, provided directly by the author.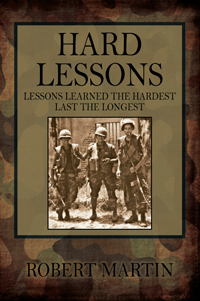 ---
Product description...
Lessons Learned from a Journey into Hell

For many of us, life lessons are learned the hard way. When we reach a place of stability and calm, we are able to look back on those life-changing experiences and reflect on what they meant, and how they changed us. In Hard Lessons, Robert Martin shares the story of his life and of his experiences in Viet Nam…how losing friends and coming back alive shaped his personality and beliefs. As you read this honest, candid memoir, you'll learn that there is no such thing as an ordinary life, and that underneath the surface of friends and relatives you think you know well, there is a story worth telling…wisdom worth listening to. Hard Lessons reminds us that life is short and must be cherished; that there is such a thing as karma; and that every person has a story that deserves to be remembered. Journey with Robert Martin as he remembers…and learn life's challenging and valuable wisdom.
---
Product details...
Paperback
Format: 6 x 9 paperback cream, 91 pages
Publisher: Outskirts Press (Mar 22, 2013)
ISBN10: 1478714379
ISBN13: 9781478714378
Genre: BIOGRAPHY & AUTOBIOGRAPHY / Personal Memoirs

---