Riding the Fantastics
Paperback
Retail Price: $12.95
Buy 1-9 copies: $11.66 each save 10%
Buy 10 or more: $9.71 each save 25%
Cost: $11.66
Qty: You save: 10%
Book Details: Scroll below for more information about this book, provided directly by the author.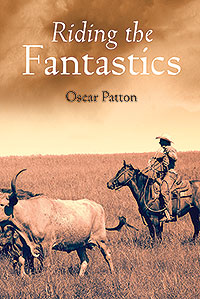 ---
Product description...
The Last Cracker King

Narrated in real time by characters in the drama, Riding the Fantastics is about the death and the life of Boy Man Hardin, last King of the Crackers in south Georgia's old herding culture. This is the second of Oscar Patton's Satilla County novels and is both a murder mystery and a story of love, courage, and the triumph of the human spirit.
---
Product details...
Paperback
Format: 6 x 9 paperback cream, 213 pages
Publisher: Outskirts Press (Jan 31, 2013)
ISBN10: 1478713577
ISBN13: 9781478713579
Genre: FICTION / Action & Adventure

---