Taking Up the Sword
A Story of a Special Agent in the Diplomatic Security Service
Paperback
Retail Price: $22.95
Buy 1-9 copies: $20.66 each save 10%
Buy 10 or more: $13.77 each save 40%
Cost: $20.66
Qty: You save: 10%
Book Details: Scroll below for more information about this book, provided directly by the author.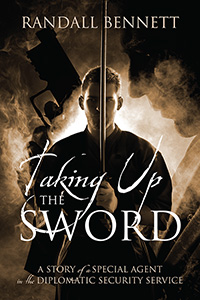 ---
Product description...
One Man's Fight Against Evil and Terrorism

Randall Bennett, Special Agent for the U.S. Department of State, Diplomatic Security Service, served 25 years in exotic and dangerous postings all over the world. With humor and other times through the heartbreak and drama that accompanies the loss of friends from violent acts of terrorists, his memoir reveals his evolution from a new Special Agent to one of the most experienced in the U.S. Government. Bennett and his various teams approached each mission with intense focus, courage, and compassion. Taking Up the Sword relates the wide range of his adventures, from searching for narco-terrorist operations in the Colombian jungle with the true Tarzan of the Amazon, to rescuing abandoned family pets and a baby gorilla while protecting the American citizens in Kinshasa, Zaire, to risking his own life trying to save Wall Street Journal Reporter Daniel Pearl. It includes the actions that led to the capture of "The Dirty Bomber" Jose Padilla, as well as his nearly six years in Pakistan and a tour as head of security for the U.S. Diplomatic Mission in Iraq. Bennett survived bombings, rockets, and assaults against himself and those he was sworn to protect throughout his highly decorated career, all while doing a job he loves. With an original and fascinating perspective, Special Agent Bennett takes you behind the scenes—to the jungles, deserts, mountains, and exotic back streets of foreign countries—where these elite and highly trained Special Agents do things that books are written about and movies are made for—quietly and often without recognition.
---
Product details...
Paperback
Format: 6 x 9 paperback cream, 548 pages
Publisher: Outskirts Press (Feb 22, 2013)
ISBN10: 147871204X
ISBN13: 9781478712046
Genre: BIOGRAPHY & AUTOBIOGRAPHY / Adventurers & Explorers

---