Poetic Episodes in Motion
Paperback
Retail Price: $19.95
Buy 1-9 copies: $17.96 each save 10%
Buy 10 or more: $14.96 each save 25%
Cost: $17.96
Qty: You save: 10%
Book Details: Scroll below for more information about this book, provided directly by the author.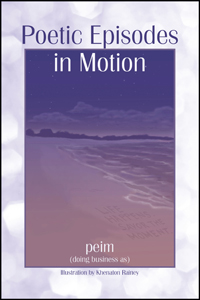 ---
Product description...
This One's For You Momma!

The days and nights are filled with possibilities of endless proportions. And as you ponder these pages that are meant for all walks of the human experience, take time to savor the true passions of the heart as well as the mind. Boundaries have no place here, and only the believers of romance and optimism can breathe life into what I feel is the strongest force known to us all, love. The blossoms that bloom when two people share a mutual attraction are undeniable, and belief in one's self to succeed is a matter of will when there only seems to be no hope.
---
Product details...
Paperback
Format: 6 x 9 paperback cream, 102 pages
Publisher: Outskirts Press (Apr 30, 2013)
ISBN10: 1432797859
ISBN13: 9781432797850
Genre: POETRY / General

---