The King's Domain
Studies on the Kingdom of Heaven
Paperback
Retail Price: $14.95
Buy 1-9 copies: $13.46 each save 10%
Buy 10 or more: $8.97 each save 40%
Cost: $13.46
Qty: You save: 10%
Book Details: Scroll below for more information about this book, provided directly by the author.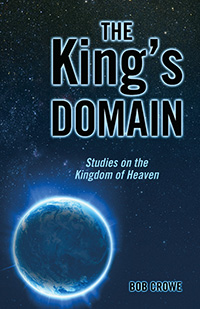 ---
Product description...

Read the book: • Your eyes will be opened to the future! • You will find that Angels won't rule: you will! • Heaven may be far away but it will come down to this earth! • You'll find yourself thinking like God thinks! • You will discover the demise of the devil! • You will discover what God created you for!
---
Product details...
Paperback
Format: 5.5 x 8.5 paperback cream, 268 pages
Publisher: Outskirts Press (Jan 31, 2013)
ISBN10: 143279650X
ISBN13: 9781432796501
Genre: RELIGION / Inspirational

---