You Can Run...
Book II of the Thompson Family Trilogy
Paperback
Retail Price: $18.95
Buy 1-9 copies: $17.06 each save 10%
Buy 10 or more: $14.21 each save 25%
Cost: $17.06
Qty: You save: 10%
Book Details: Scroll below for more information about this book, provided directly by the author.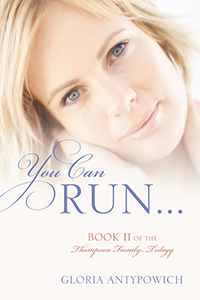 ---
Product description...
You Can Run… But You Can't Hide
Shauna Lee Holt is a successful, confident, and outgoing businesswoman who owns an accounting and bookkeeping service in Swift Current, Saskatchewan. But behind the scenes, her life is a closed book. She has no intimate relationships: no family and no friends. She assuages her loneliness with the "company" she brings home on the weekends. Brad Johnson has recently set up shop in Swift Current, and when he comes into Shauna Lee's life, he is determined to change her lonely existence. But he doesn't know about the deep, painful secrets that keep her walled off from the world, or about the past that haunts her. And he doesn't know if she will ever open up and risk falling in love. You Can Run weaves the complexities of human emotions into a riveting tale about second chances and unconditional love; secrets and lies; tormented lives and murder.
---
Product details...
Paperback
Format: 6 x 9 paperback white, 371 pages
Publisher: Outskirts Press (Jun 28, 2012)
ISBN10: 143279082X
ISBN13: 9781432790820
Genre: FICTION / Romance / Adult

---