Legends of the Garden: Faeries and Herbs
A Child's Activity Book for Exploring the Worlds of Faeries and Herbs
Paperback
Retail Price: $24.95
Buy 1-9 copies: $22.46 each save 10%
Buy 10 or more: $14.97 each save 40%
Cost: $22.46
Qty: You save: 10%
Book Details: Scroll below for more information about this book, provided directly by the author.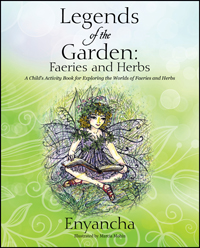 ---
Product description...
A Children's Guide to the Magical Natural World

Legends of the Garden: Faeries and Herbs shares traditional lore to teach children the wonder of listening to nature. With progressive activities to encourage readers to look, touch, feel, and experience nature, this beautiful book provides guidance not only in becoming more attuned to the natural world, but also in becoming more authentic to the self. Gentle, loving lessons include learning that "weeds" can be useful; connecting with intuition to listen to nature; learning a song to share with an elder; and building inner strength by making dandelion tea. In our modern world, children are increasingly disconnected from nature. Legends of the Garden is a uniquely valuable tool to bring children and adults back into alignment with the delight and wisdom of the world.
---
Product details...
Paperback
Format: 8 x 10 color paperback, 56 pages
Publisher: Outskirts Press (Sep 06, 2013)
ISBN10: 1432790803
ISBN13: 9781432790806
Genre: NATURE / Plants / General

---