Proverbs 22:6
A Year of Children's Sermons
Paperback
Retail Price: $12.95
Buy 1-9 copies: $11.66 each save 10%
Buy 10 or more: $7.77 each save 40%
Cost: $11.66
Qty: You save: 10%
Book Details: Scroll below for more information about this book, provided directly by the author.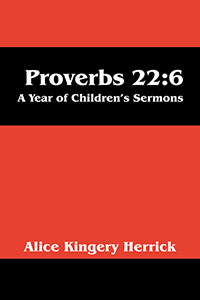 ---
Product description...
Train the Children
Alice started the children's sermons at a church I led. They were concise, to the point and filled with grace. Pastor Dave Birch Thanks for all the children's sermons - they are good for the adults, too. I love enthusiasm. Mary Goggin Alice's children's message are always interesting and thought - provoking. She makes the message understandable for children yet challenging for adults. Pastor Jeff Tyberg
---
Product details...
Paperback
Format: 6 x 9 paperback cream, 77 pages
Publisher: Outskirts Press (Apr 06, 2012)
ISBN10: 1432790641
ISBN13: 9781432790646
Genre: RELIGION / Christian Education / Children & Youth

---