My Successes Through Challenge and Adversity
Advanced Lyme Disease
Paperback
Retail Price: $9.95
Buy 1-9 copies: $8.96 each save 10%
Buy 10 or more: $4.98 each save 50%
Cost: $8.96
Qty: You save: 10%
Book Details: Scroll below for more information about this book, provided directly by the author.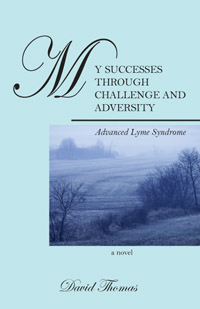 ---
Product description...
"A Lymers Pain: Every step is of deception of choreographed painless motion."
If you would like to order from me directly for an autograghed copy. Please go to www.throughchallenge.com I'm an advanced Lyme sufferer and I have been through a lot of challenges. I will try to share my experiences with failing health issues through lyme disease and related problems like depression, anxiety, muscle and joint pain, brain fog and chronic fatigue syndrome. Also I might shed some light on transitioning from a hard working man to a life of challenge and adversity to success as best as I can define it.
---
Product details...
Paperback
Format: 5.5 x 8.5 paperback cream, 67 pages
Publisher: Outskirts Press (Dec 13, 2010)
ISBN10: 1432764713
ISBN13: 9781432764715
Genre: SELF-HELP / Motivational & Inspirational

---