Make an Impression with a FREE Custom Cover
Ever heard the old adage, "Don't judge a book by its cover?" The fact is people do, so first impressions matter when it comes to your book. Make those snap judgements work to your advantage by giving your book a Custom Cover Design that makes an instant impact!
learn more
Melissa is an experienced publishing professional who has worked for industry leading organizations providing a full-range of technology...


READ MORE

School is out, but that doesn't mean the kids should stop reading. Instead, now is the perfect time to catch up on juvenile fiction books...


READ MORE

"Outskirts Press, especially my author representative guided me through the process with the utmost professionalism and quality service...


LEARN MORE
Meet Your Team: Melissa Lutchkus
Melissa is an experienced publishing professional who has worked for industry leading organizations providing a full-range of technology, content, and delivery solutions to publishers, with a focus on composition, conversion and distribution of books and journals. Her responsibilities in these positions have required detailed expertise in project management, digital asset strategies and project deliverable initiatives. In her most recent position, Melissa managed the metadata and inventory for a large association, as well as managed their conference bookstore. In her free time, Melissa enjoys working out, reading and spending time with her family and her Labrador Retrievers.
Melissa Lutchkus
Genre Close-up: Juvenile Fiction
School is out, but that doesn't mean the kids should stop reading. Instead, now is the perfect time to catch up on juvenile fiction books for the pure pleasure of reading rather than obligatory assignments. In today's post, we'll be highlighting several authors who exemplify the finest points of writing as well as serving as advocates for self-publishing packages like our One-Click Publishing Suite for the Juvenile Fiction Genre!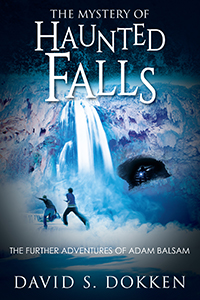 Early one July morning in 1967, two old fishermen crest the top of Cross Gulch Ridge, each anxious to be the first to land a trout at their favorite fishing hole at the bottom of the falls. But after a successful catch, Pete Hollowship and Jack Pratt are terrified by sudden strange weather, spooky noises, and a compass that's gone haywire. They are not alone. Strange things are happening in the little town of Pine Cone, Colorado, and the residents believe the falls are haunted. Sheriff Ben Timbers must get to the bottom of the mystery of the haunted falls. He, Doc Turtle, and two teenage deputies, including Adam "Trouble" Balsam, set out to discover what is happening in their little town-but will they become victims themselves?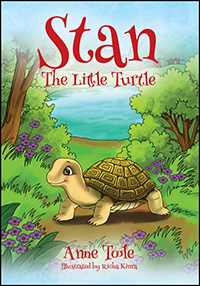 Mother turtle was worried and wondered why Little Stan turtle didn't want to meet the creatures that lived nearby. All Stan wanted to do was swim in the pond all day. That was where he wanted to stay! One day little Stan is full of fear as his mom suddenly disappears. Stan has not met the creatures that live in the woods. Will they help him find his mom, and will she ever be found? Read the story to find out if Stan's mom returns and discover what important lesson little Stan learns.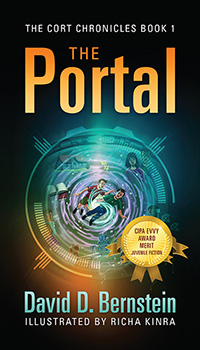 After falling into a time portal during a Little League baseball game in Trinity, New York, eleven-year-old Andy finds himself transported to a ghostly version of his hometown-101 years in the future. Twisted metal, rotten wood, and garbage litter the seemingly empty streets, but Andy will soon discover that the city is controlled by CORT robots . . . and that this reality is Earth's possible future. When thirteen-year-old Zack receives a strange letter that guides him through the portal, he and his brother are reunited, and together they must journey through a nightmare world that only they can change. But how can two young boys alter the present by saving the future?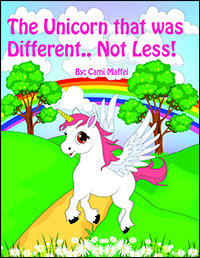 Have you ever felt a little different from others? Written by an elementary school teacher as well as a mother of an inspiring son, The Unicorn that was Different teaches readers the gift of being different. This magical story will make you realize just how special you really are. Come and meet Uni, a very special unicorn. Uni doesn't like to do the things that most other unicorns her age like to do. When Uni discovers she is different, her mama helps her understand why being "different, not less" is a beautiful thing.
---
We continue to be impressed by of all of our authors here at Outskirts Press, and we hope you'll take a moment to enjoy the hard work that you do and the work done by a stellar self-publishing community this June! You can find all of the titles we've mentioned here today, and more, listed in the Outskirts Press Bookstore. And if you haven't yet published a memoir, there's never a better time than now to inquire. Visit us online at www.outskirtspress.com where you can chat with a Publishing Consultant or call us at 1-888-672-6657.
---
Author Testimonial: Jackie Fischer
"Outskirts Press, especially my author representative, guided me through the process with the utmost professionalism and quality service. She not only communicated with me but also my cousins in Italy with regards to completing The Lost Branch, a book that we will treasure and share with the world forever. We also want to thank Outskirts Press for having welcomed our ideas, allowing my cousin and us to make this book in collaboration. They were available at any time to communicate with us and to constantly provide us with great advice. The Lost Branch has come out magnificently thanks to Outskirts Press! We are so excited to share with Italy as well...Marialuisa and Francesca Paladino. I am so proud to have chosen Outskirts Press and I will continue to recommend them to future authors. Thank you again Outskirts Press, we couldn't have found our Lost Branch without you. You are amazing!"