Amazon Kindle Edition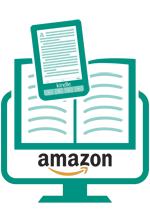 Reach millions of readers on Amazon's popular Kindle eReader and the Kindle app. Readers often buy digital books for travel and convenience—be sure your book is where your readers want to be.  And more available formats means more exposure on Amazon, where the Kindle (and Kindle Unlimited) are heavily promoted by Amazon. 

Scroll down for more information.


5 hours with a
Book Marketing Specialist


can make all the difference Details
Service Details
Publish Your Book as a Kindle eBook to Reach Readers on Every Platform


The Amazon Kindle is a wireless eReader that allows you to instantly download books and newspapers. Only books that have been submitted via the required process (and in the required format) are available for Kindle readers to purchase and enjoy.

The Kindle edition of your book will appear in Amazon search results just like any other format (such as a hardback edition).
Benefits of publishing your book as an Amazon Kindle eBook edition.
Sales for your Amazon Kindle are not split with Outskirts Press.  All sales of your Kindle edition are ALL profit.  Of course, Amazon will still take their share, but your profit will be directly deposited into your bank account by Amazon, without any involvement by (or portion for) Outskirts Press. In other words, your Kindle sales are YOUR Kindle sales.

eBook readers are growing every day but while the Kindle makes reading more convenient, the majority of Amazon customers love actual BOOKS. A Kindle sale is an inexpensive way to offer your book to a new audience; if they like it, they are more likely to purchase the paperback or hardback edition, too.

While all books are ideal for the Kindle—Kindle readers LOVE fiction. If you are a fiction author looking for a way to expand your readership, a Kindle eBook is the answer! There have been months in a row when the bestselling Outskirts Press books on Amazon have been Kindle editions of fiction books!


As an free bonus, you will also receive these exclusive
Amazon book marketing tip sheets...

5 Ways to Get Amazon Book Reviews

3 Ways Video Can Help You Sell More Books on Amazon

4 Important Steps to Market Your Kindle Edition


AUTHOR CASE STUDY

You know, all Indie Publishers have different packages and different price groups. For me and Outskirts Press though, it has always boiled down to the people. People who make it happen and make your book look great when someone holds it in their hands or reads the eBook on a screen - cover design, back cover copy, and interior formatting. You guys always, always,

nail it

. And that...enables me to win.

-Andrew Ceroni, award-winning author of 6 books.
AUTHOR CASE STUDY

I wish to extend my profound thanks to you all for the excellent job you did assisting with the publication of my first eBook: Ivy Letters: Meditations for Resilient (repeat) Bar Examinees. I had very high expectations to receive a quality, professional publication on Amazon, etc., and to receive excellent customer service from competent professionals in this line of work. You have exceeded my expectations. The book is beautifully designed, professionally formatted, and the finished product is one that makes me very proud as the author. I am now busy writing the companion to the first book. I will absolutely publish with Outskirts Press again. Kudos, to you. Very good job, team!

-Shenandoah Titus
See what Outskirts Press authors are saying about their self-publishing experience
My representative Jamie was always extremely professional and helpful during the entire process of my book publication. She always responded very quickly to requests and was always helpful throughout the entire process. She is a great role model and a great asset to the Outskirts Press family. I will highly recommend Outskirts Press to my friends and associates and also look forward to doing more business in the future. I am extremely pleased with my book publication and consider this a major milestone in my life . Thank you all very much...
Lawrence N. Weston
author of Avoiding Self Imposed Adversities
From the beginning, and throughout the process of publishing my first book, I felt that I was in the hands of a pro. Dana always took the time to answer my questions in detail and swiftly, and if she didn't have 100% confidence, she researched the question and got back to me. I was very pleased with her and I am also thankful that I was paired with her as an Author Rep.
David Matityahu Ben Avraham
author of There's No Such Thing as Magic Blood
Bridget, as well as the entire Outskirts Press team working with me, are exceptional. They held my hand through the entire process in addition to providing me with welcomed support and encouragement. I am looking forward to our next project together. I have recommended Outskirts Press to several freelance authors in my area. Thank you for making a potentially hectic journey so enjoyable and so satisfying.
Paneque y Diaz
author of More Than What They Seemed
I was very happy with my author rep's responses to me. She did a superb job of answering my questions and helping me through the editing process. She was always available when I needed her. I'm delighted with the outcome--my book looks good and it's selling! Thank you.
Kathleen O'Brien
author of Reclaim Your Right To Grow Old
A great experience with Outskirts Press. I learned a lot in this process. I will do it all over again. Thank you so much.
Esther A. Ota
author of Children: My Heritage - A Testimony
The one-on-one with Lisa was great. Especially the phone call picking out styles, font, cover template etc. She even got a vote on the color. I so wanted to have my daughter's painting as the art work on the cover and she gave me a way to do that. Her guidance helped turn my dream into a reality and sometimes it is still hard to believe until I look at my book. Thank you.
Nancy L. Regas
author of The Art of Being a School Counselor
What a blockbuster learning experience I had being a part of self publishing with Outskirts Press! I felt empowered to the next challenge by both Allison and Dana. Their professional guidance and clear instructions when I needed help was crucial to feeling I could tackle the next step. I look forward to the experience with the marketing team. Thanks, Outskirts Press.
Barbara Drinkwine
author of Lima Beans for Breakfast
Outskirts Press changed my life for the better. They turned my adoption memoir into a book that is not only beautiful to look at, it is pleasurable to read, easy to purchase online, and in less than a month already has had a profound impact on many people. A truly amazing company with a heart. Deepest gratitude!
Paul Kimball
author of We Are All Human Beings
The Outskirts Press team was helpful, attentive, prompt and detail oriented during the publishing process. It really felt like a team effort, and everyone worked hard to create an awesome final product that was my fully published book!
Eric B.
author of Realm of the Invader
Having just published my eighth book with Outskirts Press, I can attest to it being a great experience, and I look forward to publishing number nine. Thanks for a great job.
James A. Hunter
author of Soft And Gentle 8
I would like to thank everyone at Outskirts Press for helping me getting my book (Storms of Jaycard) into print. I never thought in my wildest dreams that I would write a book and have it published. Once again, I would like to thank everyone at Outskirts Press for making my book dream come true.
Joseph J. Myer
author of Storms of Jaycard
Previous
Next