Audio Excerpt (Free with Ultimate)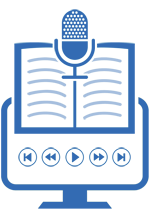 Recording a 3-minute audio excerpt is as easy as speaking into the phone. Read a passage or explain more about the book. Scroll down to the Product Details for more specific information.
Scroll down to Product Details to learn more...
Authors publishing under the Ultimate, Full-Color, or Basic packages can select our optional Audio Excerpt, which is free with the Ultimate package.
Once your book is published, you will be able to access the phone number to call in your Author's Toolkit. You will be responsible for any long distance charges you incur. You can record up to a 3 minute audio recording (as easy as placing a phone call), either reading from your book or explaining your motivation for writing the book.    Your recording should be clear and easy to understand. Please identify yourself and the title of your book at the beginning of the recording. (Otherwise, we won't know what webpage to put it on).
Recordings will be added to your Outskirts Press webpage once the title has been officially published and/or within 14 days following your recording (whichever is later).  It will play from the Media Center with the click of a "play" button.  If you wish to revise or re-record your audio recording at a later date, you may order a revision for a nominal fee.
The recordings are streamed from a 3rd party website and availability of the recording is subject to that website's availability. Author understands that Outskirts Press cannot control the business practices of 3rd party websites.  If the author's recording suddenly becomes unavailable due to changes to the 3rd party website's business, a refund will be issued if the recording has been available for 1 year or less; otherwise the fee is non-refundable once purchased.
Karl J. Van Loo recorded a short, professional introduction for his book himself simply by calling the provided number, and this is indicative of the majority of Audio Excerpts...
---
Of course, if you have access to Hollywood-style production values, your Audio Excerpt can sound like the one below... Kurt Paul Hotelling provided us with his pre-recorded .mp3 file and for a nominal service fee, we uploaded it for him...
Author testimonials
"Hi. I am glad I purchased the audio excerpt option. It is another form of advertising my book. After all, the point of getting it into as many hands as possible will not only get your message out, but will also bring in more royalties."
- Charles Hill, author of A Scriptural Guide To WHAT HAPPENS WHEN WE DIE