Amazon Kindle e-Book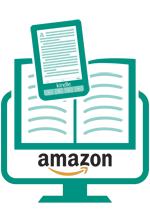 Amazon is the number one retailer in America (yes, even bigger than Wal-Mart!), and the Amazon Kindle is the #1 e-reader. More formats on Amazon means more exposure on Amazon, and the Kindle is heavily promoted by Amazon.


5 hours with a
Book Marketing Specialist


can really make all the difference Details
A word from two of our authors about our e-book services
You know, all Indie Publishers have different packages and different price groups. For me and Outskirts Press though, it has always boiled down to the people. People who make it happen and make your book look great when someone holds it in their hands or reads the Ebook on a screen - Front Cover Design, Back Cover Copy, and Interior Formatting. You guys always, always, nail it. And that... enables me to win.

Andrew Ceroni
I wish to extend my profound thanks to you all for the excellent job you did assisting with the publication of my first e-book: Ivy Letters: Meditations for Resilient (repeat) Bar Examinees. I had very high expectations to receive a quality, professional publication on Amazon, etc., and to receive excellent customer service from competent professionals in this line of work. You have exceeded my expectations. The book is beautifully designed, professionally formatted, and the finished product is one that makes me very proud as the author. I am now busy writing the companion to the first book. I will absolutely publish with Outskirts Press again. Kudos, to you. Very good job, team!

Shenandoah Titus
Service Details
In order to demonstrate the benefits of the Amazon Kindle Submission service, you must first know what the Amazon Kindle is.
The Amazon Kindle is a revolutionary wireless e-reader that allows its owner to instantly download books and newspapers. Only books that have been submitted to the Amazon Kindle via the required process and in the required format are available for Kindle readers to purchase and enjoy. Kindle editions of books appear on Amazon and in Amazon search listings just like any other format (such as a hardback edition).