Monthly Outskirts Press Newsletter
Prepare for National Poetry Month this April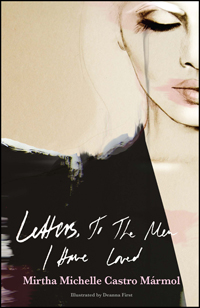 Did you know that the month of April is, among other things, National Poetry Month? This makes April the perfect month to publish that book of poems you've been thinking about for a while, and not just because this month provides some great marketing opportunities; it's also the perfect month to think about the reasons why we write, and the ways in which we put words together on the page. It's a month to re-envision our craft as wordsmiths!

First, I might point you to the experience of Mirtha Michelle Castro Marmol, whose first book of poems, Letters, to the Men I Have Loved, did more than moderately well … it did so exceptionally well as to remain on Amazon's bestseller lists for months! Mirtha Michelle Castro Marmol published through Outskirts Press, and in our interview with her on our blog, she said that the most rewarding part of being published "is and will always be" the ability her book had "to touch people." Said Ms. Castro Marmol, "It's crazy because I didn't think people really read books anymore. But for me, having these girls go and buy my book, and spend their twenty dollars or so on Letters … it's amazing, that someone believes in things still." Readers have been snapping up copies of her books, both in physical and digital forms, at such a rate as to firmly prove that people still "really read books" … including poetry!

Read More...
The Path to Self-Publishing is Smoother Than Ever!
If you will indulge us just a moment, we'd like to compare the self-publishing process to conflict resolution and the scientific method. Wait, what? Each of these things has been distilled down to five simple steps, as we have done with the publishing process. Just as with conflict resolution, self-publishing is a negotiation of complex relationships–and just as with the scientific method, self-publishing through Outskirts Press is a careful, thoughtful, and exploratory enterprise which produces reliable–and sometimes revelatory—results!

The comparison, perhaps, ends there. But when we talk about five steps to self-publishing success, we're not being overly simplistic or reductive. These five steps are...

Read More...
Online Limited-Time Offer
Free Package Upgrade!
Start publishing with Outskirts Press today and we'll upgrade your publishing package for FREE! It's the perfect way to stay within your budget and get your book into readers' hands! Simply purchase your Ultimate Black & White or Full-Color today and you will receive a FREE package upgrade. For instance, purchase the Basic and you'll receive the Ultimate. Purchase the Ultimate for your full-color book and you'll receive the Full-Color. But hurry, this is a limited time offer that expires soon!
ENTER PROMO CODE UpgradeNow
For more information, call a Publishing Consultant
at 1-888-672-6657 or chat with us on our website at www.outskirtspress.com.