Monthly Outskirts Press Newsletter
Congratulations to T.D. Arkenberg, winner of the 2018 Best Book of the Year Award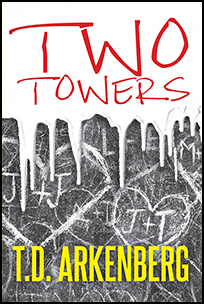 In his poignant memoir, Two Towers, T.D. Arkenberg navigates readers through a personal perfect storm. A resurgence of his father's long-dormant cancer and chaos at his job in the aftermath of the September 11 terrorist attacks serve as the backdrop for a private struggle with a secret hidden for thirty-seven years.

Read More...
A Q & A with Outskirts Press author Jack Kerfoot.
|

Recently, Jack was kind enough to answer a few questions, giving us a glimpse into the mind of the creator of FUELING AMERICA: An Insider's Journey.

Read More...
Online Limited-Time Offer
Free Custom Cover (worth $399!)
Get a professionally designed custom cover with your purchase of the Ultimate or Full-Color Publishing Packages. But hurry, this is a limited time offer that expires soon!
ENTER PROMO CODE October_FreeCover
For more information, call a Publishing Consultant
at 1-888-672-6657 or chat with us on our website at www.outskirtspress.com.