Win $1,500 in Cash!
Outskirts Press will enter your book into the ForeWord Magazine Book of the Year Awards.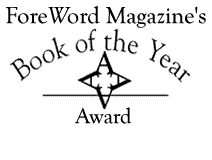 Only books with a copyright date of 2007 are eligible for this year's awards.
For the marketing option price of $249, payable securely within your author's center, Outskirts Press will handle everything for you, including:
the award submission fee

registering our book with ForeWord Connections
sending them 2 copies of your book
accurately and completely filling out 2 entry forms (one for each copy)
shipping and handling costs of your book to the ForeWord Magazine Book of the Year Awards judges.

ForeWord Magazine's Book of the Year Awards were established to bring increased attention from librarians and booksellers to the literary achievements of independent publishers and their authors. Our awards process is unique because we ask a jury of our readers, librarians and booksellers, to select their top categories as well as choose the winning titles. Their decisions take into consideration editorial excellence, professional production, originality of the narrative, author credentials relative to the book and the value the book adds to its genre.
Contact marketing@outskirtspress.com to request the ForeWord Book of the Year marketing option be added to your author's center.
Deadline to receive your payment is November 21, 2007.
All finalists and winners will be notified via email. Finalists are announced by April 2008. Winners in each category and overall for fiction and non-fiction will be announced at the Book Expo of America. First, second, and third place winners will be awarded in each category. A $1,500 cash prize will also be awarded to Best Fiction and Best Nonfiction as determined by the editors of ForeWord Magazine. ForeWord Magazine reserves the right to withhold an award in any category should submissions not meet criteria outlined by editorial and professional production standards mentioned above.
Winners and finalists will also be featured in ForeWord Magazine and in a special issue of the Outskirts Press e-mail newsletter.
Category Listings:
Adventure and Recreation
Anthologies
Architecture
Art
Autobiography/Memoir
Biography
Body, Mind and Spirit
Business and Economics
Career
Children's Picture Book
Cooking
Crafts and Hobbies
Education
Environment
Essays
Family and Relationships
Fiction, General, Historical, Horror, Literary, Mystery, Religious, Romance, .............Science Fiction, Short Stories, Translations
Gay/Lesbian, Fiction, Nonfiction
Graphic Novel
Health
History
Home and Garden
Humor
Juvenile (9-12 yrs), Fiction, Nonfiction
Music
Nature
Parenting
Performing Arts/Drama
Pets
Philosophy
Photography
Poetry
Political Science
Popular Culture
Psychology
Reference
Regional
Religion
Self-Help
Sports
Travel, Essays, Guides
True Crime
Women's Issues
Young Adult (12+yrs), Fiction, Nonfiction