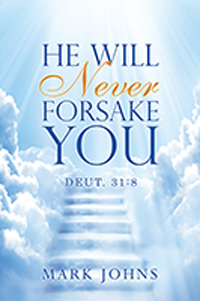 From the day Mark Johns was born, it seemed that Satan had taken a personal interest in his life. Mark suffered a childhood of neglect, adversity, addiction, and dysfunction. He grew up to become a drug addict, an alcoholic, an adulterer, a thief, a liar, and a womanizer, with several suicide attempts along the way. He broke every one of God's commandments except "Thou shalt not kill," and he lived in constant fear of God's punishment. And finally, with the help of AA, CR, and a few kind-hearted friends, Mark began to discover the power of God's love. "Sometimes we think our sins are so great that God wants nothing to do with us; or that our sins are so unique that He won't forgive them. Deuteronomy 31:8 tells us, 'The Lord himself goes before you and will be with you; He will never leave you nor forsake you. Do not be afraid; do not be discouraged.'" He Will Never Forsake You is the compelling true story of the battle between God and Satan for one man's soul…and his ultimate redemption.
Media Center
Press play to listen to audio excerpt...
I found out that one day I was supposed to be napping in my crib, the window next to my crib was open. I climbed out of my crib and when I hit the outside edge of the window sill, which was brick I started crying. My older brother caught me by my ankle preventing me from falling four stories to my death.
About Mark Johns
About the Author: Mark Johns was born in a small Midwestern town in Illinois. He has three children and two grandchildren. He Will Never Forsake You is based on fact and inspired by God.
6 x 9 paperback cream
Instant e-Book Download
Note: e-Books are for electronic enjoyment only. They may not be edited or printed.
Genre:
BIOGRAPHY & AUTOBIOGRAPHY / Personal Memoirs
Publication:
Oct 29, 2013