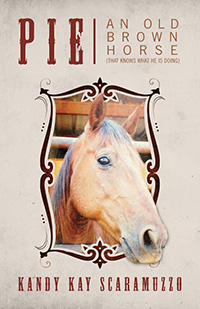 Pie was a working ranch horse well past retirement age. When he was injured, he was considered used up, with nothing left to give. At the mercy of those who owned him, he was sent off to be sold or destroyed, depending on his ability to recover. But Pie knew something the ranch owners didn't know: he was far from useless. This book tells the story of a horse who still had heart and soul and strength to give, and shares the amazing things he did in the second part of his life. Pie is truly one of the great horses, and you will get to know him and his amazing spirit as he tells you his tale as only he can, from his point of view. You'll be among the many people whose lives he touched, as you join his remarkable journey to prove that every animal deserves the chance to age with grace and wisdom.
About Kandy Kay Scaramuzzo

Kandy Kay Scaramuzzo has taught in alternative schools for over 20 years. She has also worked as an animal behaviorist for more than 28 years. She has trained dogs professionally for over 20 years. Her life philosophy has been influenced by her professional training as a criminologist, which taught her that there is a light of hope in even the most disheartening of cases; sometimes all it takes is someone to see it and help it along. She lives in Texas with her husband, 5 horses, 3 dogs, 5 cats, and an albino snake.
5.5 x 8.5 paperback white
5.5 x 8.5 hardback w/ jacket
Instant e-Book Download
Note: e-Books are for electronic enjoyment only. They may not be edited or printed.
Genre:
NATURE / Animals / Horses
Publication:
Nov 12, 2012