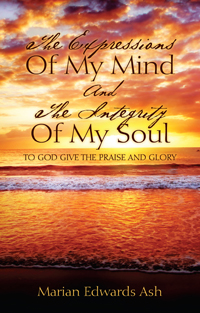 The imperfect me glorifying the Power of the perfect God. Thanking Him for His mercy. Thanking Him for His Son Jesus Christ! Thank You Jesus!
Thanks © 1997 (Psalm 103) What did I do to deserve such a life? I have gone to the wrong places. I have said and done the wrong things. Things I say make some people extremely happy and, others are stressed and distressed. But in spite of my days, my behavior, my complaining, you woke me up again today. Thanks God! Father God in heaven, Creator of the Universe, Provider of my needs and the Giver of the desires of my heart, thank You for another day. FOR EVERY DAY IS ANOTHER DAY TO GET IT RIGHT! to get it right! It is in Jesus' name I pray. Amen.
About Marian Edwards Ash

Marian Edwards Ash, a native of Portsmouth, Virginia, is a retired Behavioral Psychologist for the Commonwealth of Virginia. She provided assistance to persons with intellectual and physical disabilities for 33 years. She has a B. S. Degree in Education from Virginia State University and a M.A. Degree in Community and Clinical Psychology from Norfolk State University. She resides in Portsmouth, VA. She is married and has one child.
5.5 x 8.5 paperback cream
Instant e-Book Download
Note: e-Books are for electronic enjoyment only. They may not be edited or printed.
Genre:
POETRY / Subjects & Themes / Inspirational & Religious
Publication:
Jan 11, 2013